SEND
Students who over time are not making the level of expected progress and the gap between themselves and other students is widening; or they have a complex medical condition or disability require "provision (that is) different from or additional to that normally available to pupils of the same age" (SEND Code of Practice page 94).
As such students are identified as having a Special Educational Need or Disability (SEND). These needs can be broadly identified as:
Communication and interaction: Autism, Asperger's, speech and language difficulties
Cognition and learning: moderate learning difficulties, specific learning difficulties, dyslexia
Social, emotional and mental health difficulties: ADHD, anxiety
Sensory and/or physical needs: hearing and vision impairments, physical disability
Students will either be placed on the school's SEND Register as requiring additional SEND Support or will have an Education, Health and Care (EHC) Plan issued by the Local Authority, previously a statement of SEN.
SPECIAL EDUCATIONAL NEEDS AND DISABILITY (SEND) - Supporting students at transition from primary to secondary school and for the move to post 16 placements, supporting students with specific needs including autism and physical disabilities, organising access arrangements for GCSE exams. They are housed in new Basecamp facility in Lower School and have responsibility for the disabled therapy room and the main Learning Support classrooms used for specific interventions and events such as breakfast club, Literacy and numeracy interventions.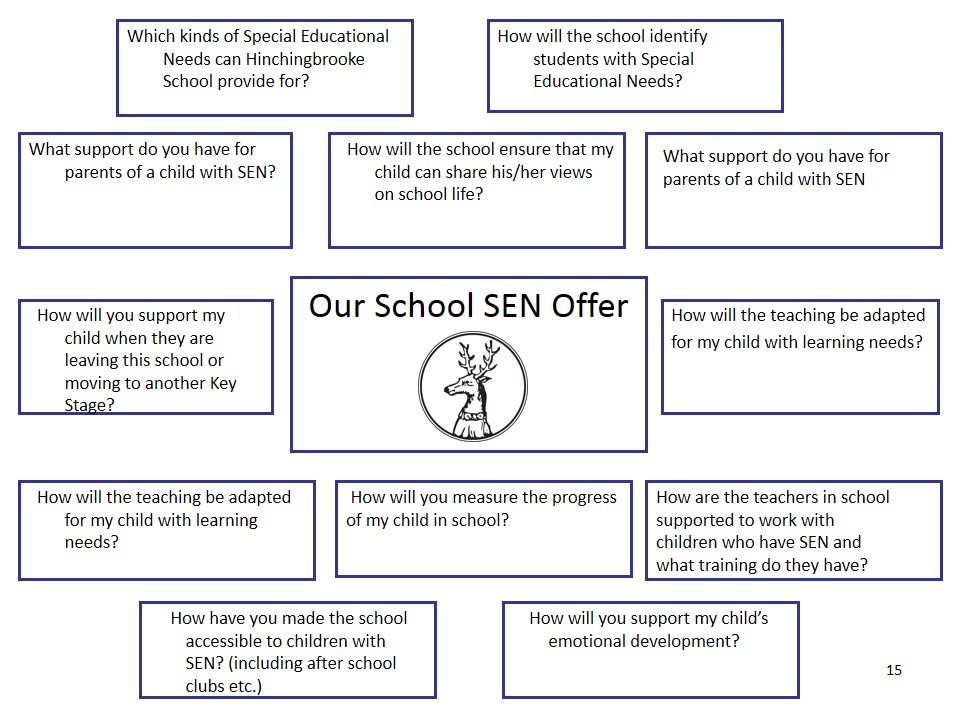 For support and advice for children with disabilities please follow this link http://www.familiesandchildcare.org.uk/
| | | | |
| --- | --- | --- | --- |
| Staff | Position | Email | Extension |
| Mrs R Bierton | Director of SEND | reb@hinchbk.cambs.sch.uk | 5260 |
| Mrs J Harris | SENDCo | jh@hinchbk.cambs.sch.uk | 5763 |
| Mrs S Dobos | Nurture Specialist Teacher | scd@hinchbk.cambs.sch.uk | 5763 |
| Mrs E Smith | Nuture Teacher | ejs@hinchbk.cambs.sch.uk | 5763 |
| Ms A Scott | SEND Administrator | as@hinchbk.cambs.sch.uk | 5763 |
| Miss H Arkle | SEND Apprentice Administrator | hla@hinchbk.cambs.sch.uk | 5763 |
| Mrs A Williams | Literacy Support Assistant | adw@hinchbk.cambs.sch.uk | 5759 |
| Miss S Corn | Math Support Assistant | sec@hinchbk.cambs.sch.uk | 5789 |
| Mr S Parker | L4 HLTA, Responsible for Disabilities | scp@hinchbk.cambs.sch.uk | 5763 |