Wylton House
Alice Wylton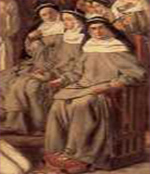 Nuns moved from the nunnery at Eltisley, called Papley, rebuild the 11th century church of St James just outside Huntingdon around the year 1170. This priory called HYCHELINGBROK, lasts until 1535 when Alice Wylton, the last prioress, dies.
In December 1535 Dr. Leigh visited the priory, where the last prioress lay dying. He commissioned the Prior of Huntingdon to take an inventory of the priory's goods and lock the coffers till its fate could be decided. The following year Hinchingbrooke suffered the fate of the smaller houses and was quietly closed down.
There are few visible remains of the Benedictine nunnery, but a large number of 12th and 13th- century stones lying in a ditch on the south side of the garden were, no doubt, from its early buildings.
The wall running south-east from the gatehouse is composed of reused material. In it is a doorway largely of 13th-century stones but having three 12th- century capitals and over it is the 17th-century pediment from the north gable of the long gallery.
Nearby was found a 13th-century effigy of a man in armour (now in the House foyer) and two stone coffins.
1415 the Prioress of Hinchingbrooke wins a lawsuit over tithes. The confusion arising from the fact that the patronage of St Peters Church and St Michael's Church originally belonged to the Priory of Huntingdon, but they later passed into the control of the Prioress of Hinchingbrooke; St Michael's apparently becoming a chapel of St Peters in the meantime. The Prioress occasionally during the 14th century leased St Peters and its chapel of St Michael to the rector of St Andrews; this leading to the confusion over tithes which the prioress successfully challenged.
Documents alluding to the end of the priory also survive. One dated 16th October 1535 with the remains of a seal marked A.W. for Alice Wylton the prioress at the time shows her demising land in Hemington in favour of Edward Montagu. Also in 1535 as the prioress lay dying Dr Leigh valued the priory and its contents, taking an inventory of all its goods, and ordering the coffers sealed until Cromwell's decision on its fate was known. This is Thomas Cromwell Earl of Essex working on behalf of Henry 8th on the dissolution of monasteries. Its end came in 1536, when it was closed and the order dissolved, as were most religious houses with a value of under £200, Hinchingbrooke was valued at £17 1s 4d, and as having only 3 nuns and a prioress. The building now lay dormant until 1538, when Richard Cromwell (Williams), is granted Hinchingbrooke along with other monastic spoils of the dissolution, including nearby Ramsey Abbey