Uniform Ordering
Price and Buckland
You can place a uniform order direct with Price & Buckland, via the link below, for delivery to your home address and this will be received within 2 - 5 working days. Otherwise orders placed for delivery to school will be sent to the school only twice a month (2nd and 4th Monday). The school will arrange delivery via your child's form tutor where possible, unless you wish to collect direct from the Main School Reception between 9am – 4pm from the Tuesday after the delivery date. Please note summer holiday collection dates can be found on the Home Page of the website.
The school is not able to accept any returns and we cannot be held responsible for any incorrect, damaged or incomplete orders. Any problems relating to your uniform orders have to be directed to Price and Buckland at the address / number below:

www.pbparentsonline.co.uk/hinchingbrooke
If you are unable to order online, please complete the order form attached below and send directly to Price & Buckland Ltd.
Post completed form to:
Price & Buckland Ltd,
Benneworth Close, Hucknall, Nottingham NG15 6EL
Tel: 0115 9640827 Fax: 0115 9640769
Tesco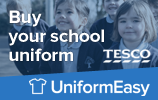 We have arranged with Tesco for the school badge in House colours to be embroidered on to the girl's and boy's blazer for the inclusive price of £16.00-£19.00 (size dependant). This can be bought on line via:
http://www.clothingattesco.com/icat/embschoolwear
Step 1 Under the title 'Find your School', when prompted for 'Local Education Authority' choose
'Cambridgeshire';
Step 2 When prompted 'Select School' there are 5 separate Hinchingbrooke School options, one for each of the 5 Houses:
Cromwell (Green)
Montagu (Yellow)
Pepys (Blue)
Vesey (Red)
Wylton (Purple)
Step 3 Then click on 'Shop Now'.
Items currently available on Hinchingbrooke's webpages on Tesco on line are: blazer with embroidered school badge, mid grey trousers, long and short sleeved school shirts. We will load additional uniform items onto the website as and when they become available (eg girl's short sleeved school shirts). Further uniform items are available from the full Tesco website that are not available on the Hinchingbrooke web page (eg 5 pack of school shirts). Tesco leaflets were distributed to all students on Friday 18 July 2014 and contained a code for a £5 discount when you spend £25 on line.
Alternative Suppliers of Girls' Mid Grey Trousers
As you are unable to purchase girls' mid grey trousers from P&B we have sourced other High Street suppliers who currently stock trousers of the correct 'grey' in order to give you a choice other than Tesco.
Marks & Spencer – adjustable waist, approximately £14.00
John Lewis – flat front with elasticated back, approximately £14.00-£17.00
Financial Assistance
Students wishing to apply for financial assistance with uniform can obtain an application form from the relevant year group's Student Support Officer or School Office, or print off a copy as below.