Student Leadership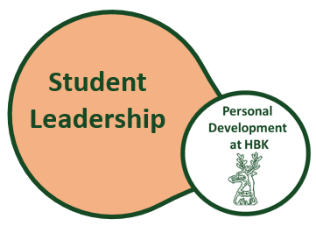 At Hinchingbrooke we value the impact that developing leadership skills can have for our students. We have sought to implement student roles that allow a wide range of students to practise and perfect their communication, cooperation, teamwork and leadership skills. Form reps, House reps, Anti-Bullying Mentors and Prefects are all roles available to students between Year 7 and Year 11. These roles facilitate near-peer mentoring, discussion and implementation of ideas, dissemination of messages to the wider community and a play a key role in the recognition and celebration culture which is embraced at Hinchingbrooke.
Sixth Form students are invited to apply for one of the Senior Student roles which include Head Students, House Captains, House Ambassadors and Student Co-ordinator. All of these roles have a key responsibility within the Sixth Form but also provide support, advice and guidance to the younger students across the whole school.
Any staff interviews that take place involve a student panel, as we value student involvement and feedback in our recruitment process.