In Memoriam
We are sorry to learn that the following former pupils and members of staff
have recently passed away.
Our thoughts and sympathy go out to their families and friends.
2018
John Wakelin who was Headmaster at HGS/Hinchingbrooke from 1965 to 1982.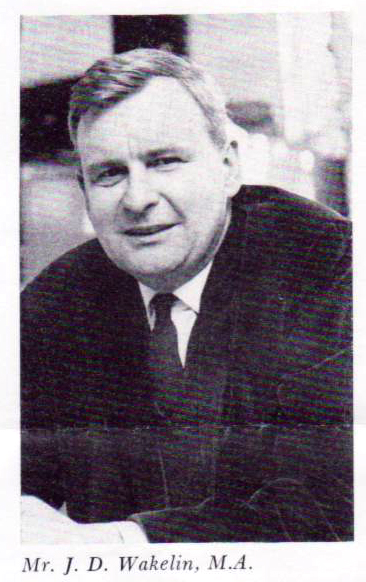 Peacefully passed away at his home in Elsworth on Saturday 13th October 2018, aged 89 years. The funeral service will take place at The Holy Trinity Church, Elsworth, on Monday 29th October, at 11.00am, followed by burial in the churchyard. Family flowers only please, but if desired donations, made payable to The Salvation Army, may be sent c/o William Peacock and Sons Funeral Directors, Castle Hill Lodge, Castle Moat Road, Huntingdon, Cambs, PE29 3PG. Tel: 01480 453882
(from Hunts Post 24th Oct 2018)
Tributes,
Pupils who were at Huntingdon Grammar School and then Hinchingbrooke School in the years 1965 to 1982 will be sad to hear of the death of their Headmaster, John Wakelin.
Mr Wakelin took over from Mr. Rowntree at a time of great change in the education system. The first challenge which he faced (and welcomed) was to change the school from being a relatively small grammar school into a large comprehensive school, which was soon to become one of the largest 11-18 schools in the country. The ability range of the school intake became much wider and the curriculum range of the school broadened. John Wakelin managed that while maintaining academic quality where appropriate. The expansion of the school required a huge building programme which required great attention to detail.
The special challenge of the creation of Hinchingbrooke School was the conversion of a derelict stately home, Hinchingbrooke House, into building suitable for Sixth Formers, while conserving the historic atmosphere of the building. As a historian himself, John Wakelin took a particular interest in this aspect of the project, spending much of his free time visiting auction houses to buy up furniture and fittings to match the House. Many people would have been dismissive of having a comprehensive school in a stately home but, strongly supported by the Governing Body and Mary Stuart in particular, John Wakelin regarded the House as a real asset and positively encouraged students to take an interest in its history. Still to this day, it is the Sixth formers who take visitors round the House on summer Sunday afternoons.
As the school increased in size, Mr. Wakelin had the opportunity to appoint young, able and energetic staff, and this enabled the development of a lively extra-curricular life for the school, with sport, music and the Duke of Edinburgh Award scheme among the most prominent. Not surprisingly, many of these outstanding teachers moved on from Hinchingbrooke to take senior positions in other schools, colleges and university. Some were so happy there, they stayed for their entire career.
In addition to his formidable skills as an administrator. John Wakelin was also an innovator. He believed that schools should be as independent as possible, though within the local authority umbrella, so he was an early proponent of 'Local Financial Management' (LFM). This project, piloted from 1982 at Hinchingbrooke and six other county schools (including St. Peter's and Buckden Primary) was highly influential in shaping the detailed legislation of the 1988 Education Act. It is not an exaggeration to say that the educational landscape of the country was greatly influenced by the positive aspects of LFM.
Mr. Wakelin was deeply interested too in social reform outside education and stood as a Liberal candidate in Cambridge. He retired early from headship in 1982 owing to poor health but he was able to have a long retirement during which his interest in social reform was maintained. Even well into his 80's he was writing up his radical ideas and in 2009 published three volumes on 'The Good Life in the Good Society'. In 2013 he wrote 'Education - purpose and control' and in 2016 'Welfare without benefits'.
As Mr Wakelin's immediate successor in 1982, it was a privilege for me to take on the headship of a well-run, progressively-minded school, set in a historic house in a country park. It is no surprise that a reporter from the Times described Hinchingbrooke as 'the most beautiful comprehensive school in the country'. Its many strengths are a testimony to his headship.
Peter Downes, Head of Hinchingbrooke School, 1982-96
2017
Edward Rendall (Ted), caretaker at Hinchingbrooke 1970 - 1991
Margaret Ann Bishop (nee Young), attended HGS 1952 to 1959
John (Tony) Mitchley, attended HGS 1938 to 1945
2016
Robert Lewis Sawford, attended HGS 1956 to 1962
Harry Denzil Pateman
2015
Ivor Blackburn Hunter, attended HGS from 1943 to 1950
Ronald Flack
Geraldine Matts
John Wales
Bernie Briggs
Mrs V Holland
Don Riach, taught at the school 1958 to 1983. Former Head of Geography and Vesey House
Susan Granger, attended HGS from 1956 to 1962
Gordon Hodge
Robin Kiddle
Pauline Rignall
Valerie Holland (nee Orbell), attended HGS from 1960 to 1967
Sybil Braybrook
Terry Johnson, attended HGS from 1957 to 1964
Alan Bumstead, attended HGS from 1940 to 1947
Colin Flack
Jen Mountjoy (nee Mountford)
Michael Deaves
2014
Mike Hawker, attended HGS
Mick Curtis, attended HGS from 1957 to 1964
Dick Horrex, attended HGS from 1927 to 1935
Al Hawkes, taught at Hinchingbrooke
Fred Noble
John Percival Noble
Betty Ibbett
Elizabeth R Buddle (nee Goodliff)
2013
Robin John Coles, attended the school from 1949 to 1956
Denise Laura Chester, attended HGS/Hinchingbrooke 1967 to 1974
Anne Morton (nee Wills), attended HGS
2012
Jocelyn Depledge (nee Bevan), attended HGS from 1945 to 1950
If you are aware of another Old Huntingdonian who has passed away in the past 5 years and would like to see them remembered on this page, please click here to contact HAA with details of their name, the year of their passing, and the dates they were at the school.
For years over 5 years ago please see In Memoriam Archive.