Home
A LOT OF THIS BECOMES NEWS ITEMS
From September 2015 all the year groups (Years 7 to 11) should be wearing the full uniform. Please see the latest information in the uniform section.
Breaking News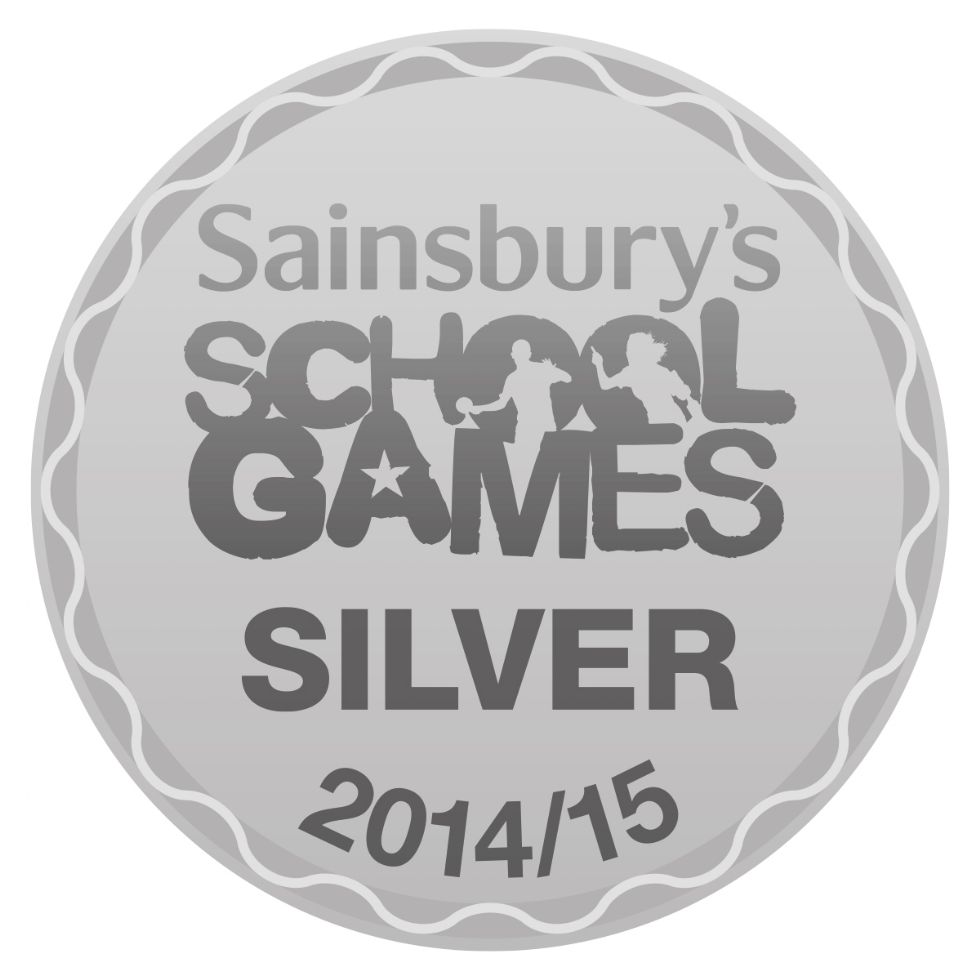 Hinchingbrooke PE department have secured the Sainsbury's School Games Silver Mark award for the second year running.
Congratulations to Mr Turnbull and the PE team for securing this award. Read More...
Hinchingbrooke celebrates 450 years in 2015!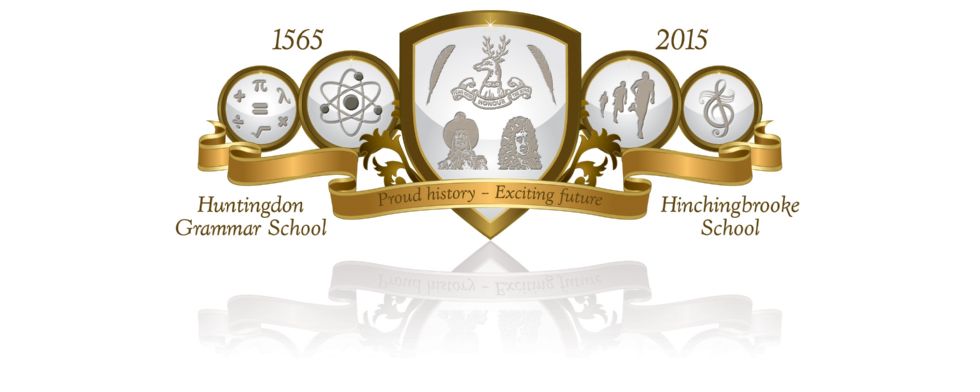 Did you attend Hinchingbrooke School? Sign up to our Alumni page, a safe secure site administered by 'Future First' allowing us to keep in touch. https://networks.futurefirst.org.uk/former-student/hinchingbrooke
Week Beginning 12th October 2015 – Week A
There was a fantastic turnout at last week's Year 6 Open Evening with lots of very excited primary students (and parents) looking at all the departments and what they had on offer. Science was blowing things up, cutting things up and lighting things up – what a spectacle! The PE department had the trampolines out with some astounding displays and English were playing Boggle amongst other word games, and that's to name but a few! The students, as always did us proud; those in departments and those who were guides for the evening!
This week sees the continuation of the Inter-house Castles Competition in History. Apparently there is a week still to go. The teachers have commented that the standard this year is second to none, but they would like a few more edible entries (see the jelly entry below). Likewise this week sees the launch of Inter-house in PE lessons – with rugby for the boys and netball for the girls. Good luck to all (although of course I am secretly supporting Pepys!).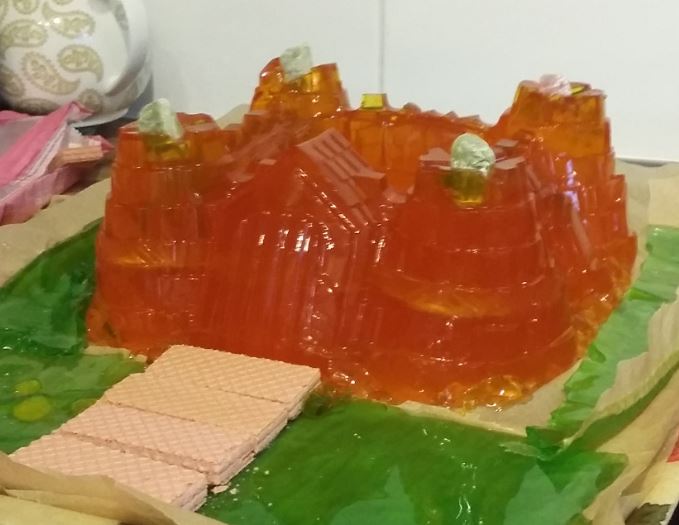 Also this week there are a number of trips. The Art Department are out and about with Year 10, with visits to Norwich and the National Art Gallery. ICT are off to Bletchley Museum on Friday (no doubt to break a few codes) and there is the Bronze Duke of Edinburgh expedition on Friday too. Year 11 also have an exciting event to look forward to as we welcome 'Positively Mad' to Hinchingbrooke on Tuesday. They will be working with all Year 11 students on study skills and preparing for their exams. There is an additional session for some students and most importantly some parents have also been invited to a workshop (Tuesday 13th October - 6-7pm in the PAC) on how to support their son/daughter during this important year. This couldn't come at a better time as 200 of the year group complete their speaking and listening exam for their English IGCSE. We wish them all the best of luck in this element and indeed with the rapidly approaching written papers in November.
This week (Thursday 15th October) also sees the first meeting of the academic year for the
Parents' Forum
. Does your child have difficulties with friendship groups? Are you always hearing about how they have fallen out with their friends? If the answer is 'yes' then this may be the meeting for you. Mr Tom Grey, new Assistant Headteacher, will be explaining restorative approaches, we which are using and growing within the school. There will be chocolate biscuits on offer, as well as an opportunity to ask and answer questions and to give your views on whether we should use social media to engage more parents. If you are interested in attending then please contact Jackie Moore (
jm@hinchbk.cambs.sch.uk
). The evening starts at 7pm in the House and usually lasts between 60 to 90 minutes.
Other important dates rushing towards us include:
20th October – Professional Development Day with a focus on equality.
Year 11 Targeted Exam Success Evening
26th – 30th October – Half Term
2nd November – Staff Training Day (no students)
3rd November – 200 Year 11 students having intensive preparation for their IGCSE English Paper 1
4th November – IGCSE English Paper 1
Sixth Form Open Evening (for all Y11 students)
12th November – IGCSE Paper 2
The Theme for this week sees another in the series of our 'One School Rule' (Respect Yourselves, Others and YOUR School). This week the focus is on how to respect yourself. The emphasis here is on not following the crowd when you know it is wrong; of standing up to those who are doing the wrong thing whether that be in class or outside, or even beyond the school gates.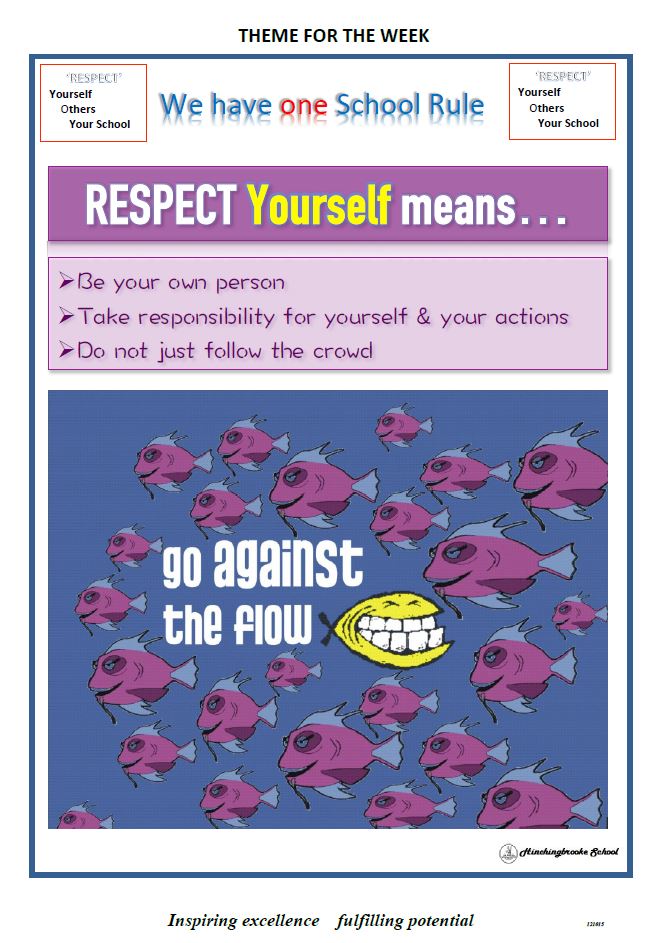 And on that note I leave you with this thought…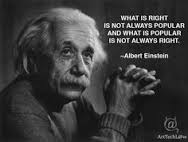 Have a great week.
Anna Nightingale
Vice Principal