Help & Advice for Parents & Carers
Safeguarding Students Online
Here are some useful resources to support parents and carers to keep your children safe online:
Thinkuknow provides advice from the National Crime Agency (NCA) on staying safe online
Parent info is a collaboration between Parentzone and the NCA providing support and guidance for parents from leading experts and organisations
Childnet offers a toolkit to support parents and carers of children of any age to start discussions about their online life, to set boundaries around online behaviour and technology use, and to find out where to get more help and support
Internet matters provides age-specific online safety checklists, guides on how to set parental controls on a range of devices, and a host of practical tips to help children get the most out of their digital world
London Grid for Learning has support for parents and carers to keep their children safe online, including tips to keep primary aged children safe online
Net-aware has support for parents and carers from the NSPCC, including a guide to social networks, apps and games
Let's Talk About It has advice for parents and carers to keep children safe from online radicalisation
UK Safer Internet Centre has tips, advice, guides and other resources to help keep children safe online, including parental controls offered by home internet providers and safety tools on social networks and other online services
We recognise that sometimes parenting can be challenging and additional help and advice can be useful. Below are details of websites containing help and advice for parents/carers on a wide range of parenting issues:
Cambridgeshire County Council - information on local services and support for families
Young Minds- information for parents, carers and young people around well-being and mental health. Parents survival guide including helpline number
CHUMS - service commissioned in Cambridgeshire to provide help and support for parents/carers and young people experiencing difficulties with mental health and emotional well-being. Students can self-refer into this service through the website. Also contains advice and links to organisations offering specialised support.
HeadMeds - advice and information relating to medication
KeepYourHead - mental health information and resources for young people and their parents/carers
RCPsych - advice and information for parents/carers and young people
Beat Eating Disorders - information and support on eating disorders
Understanding Childhood - advice on a wide range of family situations and events
Relate - help and information about family life and parents and free web chat advice
UK Safer Internet Centre - The latest tips, advice and resources to help children and young people have a safe and positive time online
Parent Zone - tips and advice on all aspects of parenting, including ideas and links to access additional support and information
Parents Against Child Sexual Exploitation – Advice and information about Child Sexual Exploitation – spotting the signs, how 'grooming' works and what to do if you are worried
CASUS - Local Advice on spotting signs of drug use in young people and the support available.
Talk to FRANK – Practical advice for parents and carers on how to talk to your child about drugs
Family Lives- Parenting teenagers advice about teenagers and drugs and alcohol, including an A-Z of Common drugs
FFLAG - Support for families and friends of LGBT+ young people
The Kite Trust- direct support for young people around sexuality and gender, including support groups and 1:1 Project workers
Stonewall - support for young people and families and wider organisations
The National Domestic Abuse Helpline continues through COVID-19 to operate 24/7 on 0808 2000 247. There is a form you can complete online and they will call you back at a safe time - please click here https://www.nationaldahelpline.org.uk/Contact-us
Women's Aid online chat: https://chat.womensaid.org.uk/
Men's Advice line, for male victims: https://mensadviceline.org.uk/
Domestic Violence (Male) Advice and Enquiry Line: 0808 801 0327
Men Reaching Out Email: menreachingout1@gmail.com
Cambridgeshire Outreach Services are still available too:
Cambridge City/East Cambs/South Cambs 01223 361214
Fenland/Hunts/Peterborough 07787 255821
For support around sexual violence - National Rape Crisis is still available and they also have online chat https://rapecrisis.org.uk/
The Elms Sexual Assault Referral Centre: https://www.theelmssarc.org/
Tel: 0800 193 5434 (24 hour)
ISVA services (Sexual Violence) http://www.caprcp.org.uk/
Cambs & Peterborough DASV Partnership https://www.cambsdasv.org.uk/website
Bright Sky is a free to download mobile app, launched in partnership with the Vodafone Foundation, providing support and information to anyone who may be in an abusive relationship or those concerned about someone they know.
https://www.hestia.org/brightsky
And for victims the police advise to phone on 999 if it is an emergency, and if unable to speak at that time, press 55 after the automated message. The call will then be transferred to your local police and callers will be given further instructions
Breaking Barriers
The Ormiston Families project Breaking Barriers, which supports children who have a parent or other close family member in prison, are still able to provide support using remote intervention practices.
To access support, please follow the link below.
https://www.ormiston.org/what-we-do/working-with-families-affected-by-offending/breaking-barriers/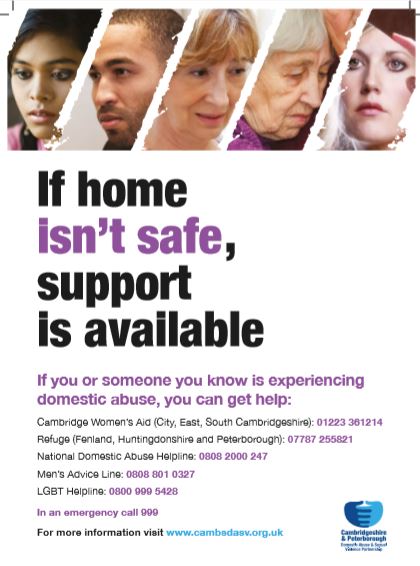 UK Safer Internet Centre advice for adoptive parents:
www.saferinternet.org.uk/advice-centre/foster-carers-and-adoptive-parents
Childnet's family agreement - www.childnet.com/resources/family-agreement
Childnet's advice leaflet for parents on supporting young people online:
www.childnet.com/resources/supporting-young-people-online
Childnet's advice leaflet for parents on supporting young people with social networking sites
www.childnet.com/resources/young-people-and-social-networking-sites
Childnet's parent and carers resource sheet
www.childnet.com/resources/parents-and-carers-resource-sheet
Flyers courtesy of Childnet www.childnet.com