COVID-19 Information
COVID-19 Related Absence from School – a Quick Guide for Parents/Carers
What should I do if…?

Action needed…

My child is feeling ill with Covid-19 symptoms of:

A high temperature – this means your child feels hot to touch on their chest or back
A new, continuous cough – this means coughing a lot for more than an hour, or 3 or more coughing episodes in 24 hours
A loss or change to your sense of smell or taste – this means your child cannot smell or taste anything, or things smell or taste different to normal

Most children with Covid-19 have at least one of these symptoms.

DO NOT SEND YOUR CHILD TO SCHOOL

The whole household must self-isolate. Your child will need to isolate for 10 days from the start of symptoms; the rest of the household should isolate for 14 days.

You should book a test for your child using this link here, or by phoning 119.

Please note – only the person with symptoms should be tested and there is no need for others in the household to have a test, unless they also have any of the symptoms mentioned.

Make sure you tell the school immediately about the result of the test

My child is feeling ill with other symptoms such as a sore throat, runny nose or a headache

You should act in the same way as you would have done before the pandemic. This may involve sending your child to school or keeping them at home, depending on the nature and severity of symptoms. Of course you should seek medical advice via your GP or NHS Direct on 111 if you would normally do so

Someone in my household has Covid-19 symptoms

DO NOT SEND YOUR CHILD TO SCHOOL

The whole household must self-isolate and the person with symptoms should book a test using this link here, or by phoning 119

Someone in my household tests positive for Covid-19

DO NOT SEND YOUR CHILD TO SCHOOL

The whole household should isolate for 14 days. The person who has tested positive must isolate for 10 days from the start of symptoms, and until there is no fever for 48 hours

Someone in my household with symptoms test negative for Covid-19

Your child can return to school, assuming they are well, and no on in the household or support bubble has any further Covid-19 symptoms

My child tests positive for Covid-19

DO NOT SEND YOUR CHILD TO SCHOOL

Your child must isolate for 10 days from the start of symptoms, and until there is no fever for 48 hours. The rest of the household should isolate for 14 days

My child tests negative for Covid-19 (test done when the child had symptoms)

Your child can return to school, assuming they are well, and no one in the household or support bubble has any Covid-19 symptoms
Please update the SSO for your child with any progress
In light of our students being home schooled due to coronavirus (COVID-19) outbreak, we would like to share with you some useful resources to support parents and carers to keep your children safe online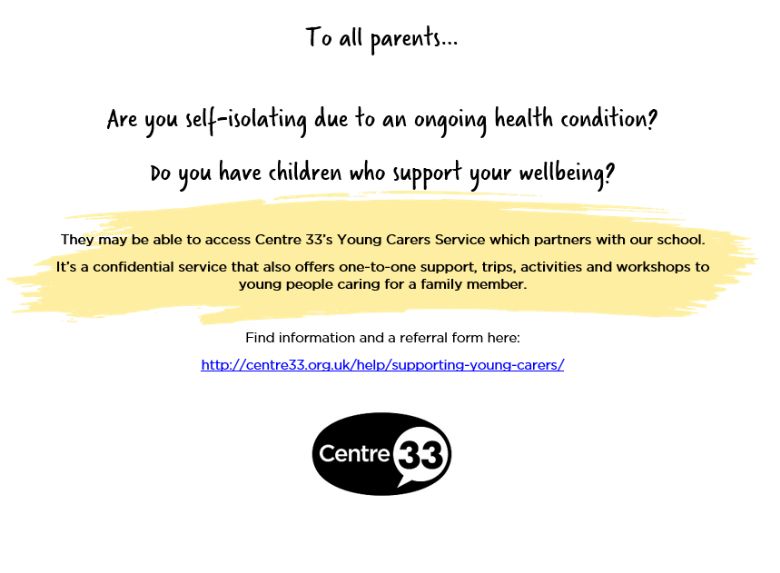 In light of our students being home schooled due to coronavirus (COVID-19) outbreak, we would like to share with you some useful resources to support parents and carers to keep your children safe online:
· Thinkuknow provides advice from the National Crime Agency (NCA) on staying safe online
· Parent info is a collaboration between Parentzone and the NCA providing support and guidance for parents from leading experts and organisations
· Childnet offers a toolkit to support parents and carers of children of any age to start discussions about their online life, to set boundaries around online behaviour and technology use, and to find out where to get more help and support
· Internet matters provides age-specific online safety checklists, guides on how to set parental controls on a range of devices, and a host of practical tips to help children get the most out of their digital world
· London Grid for Learning has support for parents and carers to keep their children safe online, including tips to keep primary aged children safe online
· Net-aware has support for parents and carers from the NSPCC, including a guide to social networks, apps and games
· Let's Talk About It has advice for parents and carers to keep children safe from online radicalisation
· UK Safer Internet Centre has tips, advice, guides and other resources to help keep children safe online, including parental controls offered by home internet providers and safety tools on social networks and other online services
Welcome to our webpage about the PPE project our school is currently running to help the NHS and healthcare workers. Please use the menu on the right to navigate. Thank you for visiting and stay safe.
We have been busy making visors and scrubs to help support local NHS staff and healthcare professionals who are working alongside patients with Coronavirus (COVID-19).
---
Here's how to help
There are a number of ways in which you can contribute to our project, here is a list. Thank you for anything you can do:
Donate to help us purchase materials for scrubs
Download the scrubs pattern, make scrubs and share with For The Love Of Scrubs
Share the scrubs pattern and link to FTLOS with others
Pick up a pack of scrubs fabric and instructions at our School reception
Donate fabric for scrubs (drop at our school reception)
Buy something from the NHS Amazon wish list
Share our video with as many friends and family as possible to spread the word!