Bösendorfer Piano Concerts
The Hinchingbrooke Bösendorfer Piano Concerts 2017 - 2018
The eleventh series of Hinchingbrooke Bösendorfer Concerts again brings an impressive array of artists using the Bösendorfer concert grand piano donated toHinchingbrooke School by grateful pupils of former music master, Kenneth Brown.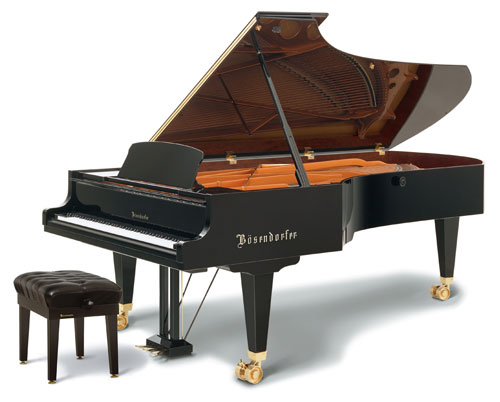 Friday November 24th 2017: Nicholas Daniel, oboe; Paul Turner, piano
Winning the BBC Young Musician of the Year competition at the age of 18, Nicholas has since
become one of the world's most distinguished soloists recording and performing with leading
pianists, orchestras and conductors worldwide.
Paul, a frequent performer here, is highly valued by eminent soloists for his sensitive and alert
playing.
Their all British programme will include music by Handel, Bowen, Musgrave and Arnold.
Friday January 26th 2018: Matthew Trusler, violin; Ashley Wass, piano
Matthew has earned a reputation as one of Britain's leading violinists, receiving critical acclaim
for his diverse recordings, performances with some of the world's great orchestras and at the
BBC 'Proms'. He performs regularly for the BBC and elsewhere in duo with Ashley whose solo
recital here four years ago revealed an exceptionally fine, sensitive, indeed visionary musical
mind. He has been described by Gramophone Magazine as 'A thoroughbred....pure gold', has
played at major European venues, the 'Proms' and with prestigious international orchestras.
Their programme will include Beethoven , 'Spring' Sonata; Franck, Sonata; music by Vaughan
Williams and Prokofiev.
Friday February 23rd 2018: Anna Tsybuleva, piano
We are privileged to be able once again to host Anna, the 2015 winner of the Leeds
International Piano Competition at the Performing Arts Centre. Her recital here early in 2017,
warmly received by a capacity audience, was a revelation.
She is an exceptionally fine artist who has the ability to make the instrument speak with her
own very distinctive and compelling voice.
Her programme will include Chopin, Polonaise in F sharp minor, Ballade no 1 in G minor,
Nocturnes, Mazurkas; Tchaikovsky, 'The Seasons'.
Friday March 23rd 2018: 'Schubertiade'. A Celebration of the Music of Schubert.
Stephan & Natasha Loges, baritone & piano; Vivian Choi, solo piano.
German born Stephan, an international prizewinner has given recitals and sung in oratorio and
opera at major venues worldwide. Here he is joined by his wife Natasha, a highly successful
and accomplished musician, in a selection of Schubert's Lieder.
Vivian, whose lucid and beautifully judged playing won first prize in the Washington
International Piano Competition will contribute to the programme with piano works by
Schubert.
Hinchingbrooke Performing Arts Centre
Huntingdon PE29 3BN at 7.30 pm
Box Office 01480 375678 (Mon -Fri 9 to 3)
www.ticketsource.co.uk/hinchingbrookepac
Tickets: adults: £15(all 5 concerts: £60)
groups of 20+: £10 each
students under 21: £5