Bösendorfer Piano Concerts
The Hinchingbrooke Bösendorfer Piano Concerts 2018 - 2019
This twelfth series of concerts again sees a variety of performers of the highest quality. Central to
all the concerts is the now freshly refurbished Bösendorfer concert grand piano, presented new
to Hinchingbrooke School in 2006 by grateful pupils of former music master Kenneth Brown.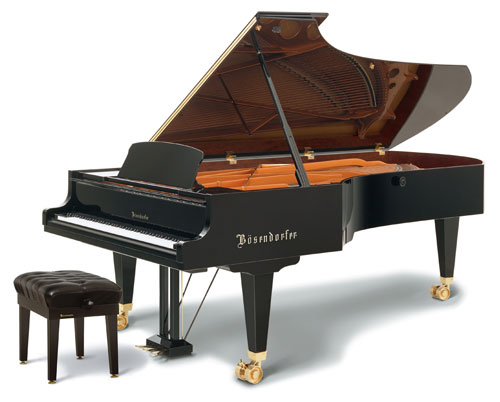 Friday October 19th 2018: Frédéric Aguessy, piano
Since winning the very prestigious 'Concours Marguerite Long‐Jacques Tibaud' in Paris, French
pianist Frédéric Aguessy has become firmly established as an outstanding solo and concerto
player worldwide.
Especially famed for his interpretations of French music, he will travel from France to honour his
compatriot Claude Debussy one hundred years after the composer's death in 1918. His
programme will include music by Debussy and Chopin.

Friday November 30th 2018: Joy Farrall, clarinet; Caroline Dearnley, cello; John Lenehan, piano
Joy, famed for her brilliant solo performances with the Britten Sinfonia, will be joined by
colleague, Caroline Dearnley, soloist and leader of the cellos in the same orchestra and pianist
John Lenehan who frequently partners many iconic instrumentalists both in the UK and abroad.
Their programme will include trios by Brahms and Beethoven.

Friday January 25th 2019: Katya Apekisheva and Charles Owen, piano duo
Both former winners of international prizes, Katya and Charles have separately distinguished
themselves as soloists and ensemble players of the very highest quality. Here they will join forces
to create an unusual and exciting duo team on one piano. Each has independently carved out an
exceptionally distinguished solo career worldwide but will tonight entertain with a duet
programme including works by Schubert, Schumann and Brahms

Friday March 1st 2019: Emma Halnan, flute; Robert Burton, saxophone; Manon Fischer‐
Dieskau, piano; Christine Zerafa, piano.
Following Huntingdonshire saxophonist Robert Burton's prize‐winning performances in the 2018
'BBC Young Musician of the Year' competition, he returns to his old school to team up with
flautist Emma Halnan, herself a BBC Young Musician prize‐winner in 2010, and now regularly
performing at venues world wide.
They will present an exciting and varied programme, each in duo with their respective pianists,
Manon and Christine, both of whom have already achieved exceptional international success as
solo and ensemble players.
Their programme will include music by Donizetti, Prokofiev and Russell Peterson's trio for flute,
saxophone and piano.

Friday March 29th 2019: Masayuki Tayama, piano
Masayuki has been a regular and extremely popular performer in the Bösendorfer series since
2007.
Apart from the deep understanding, musical and pianistic skills needed for the standard
repertoire, of which he has an abundance, he has a special affinity with the works of
Rachmaninov , twice filling the Wigmore Hall with large and exceptionally appreciative
audiences. He has an international career to match these successes.
'Masa' will include in his programme music by Beethoven and Rachmaninov.
Hinchingbrooke Performing Arts Centre
Huntingdon at 7.30 pm
Box Office 01480 375678 (9am to 3pm)
www.ticketsource.co.uk/hinchingbrookepac
Tickets: adults: £15
(all 5 concerts: £60)
groups of 20+: £10 each
students under 21: £5