Results Days 2023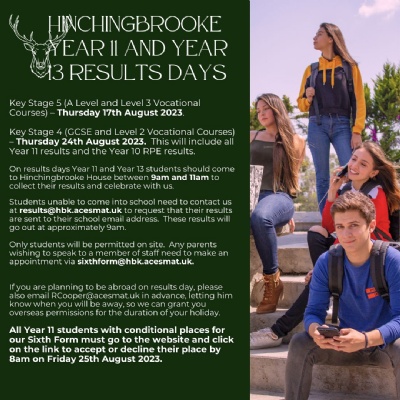 Dates, times and information about the 2023 Keystage 4 and 5 results
Results Days Summer 2023
Key Stage 5 (A Level and Level 3 Vocational Courses) – Thursday 17th August 2023. This will include all Year 13 results and some Year 12 external exam results.
Key Stage 4 (GCSE and Level 2 Vocational Courses) – Thursday 24th August 2023. This will include all Year 11 results and the Year 10 RPE results.
On results days Year 11 and Year 13 students should come to Hinchingbrooke House between 9am and 11am to collect their results and celebrate with us;
Students unable to come into school need to contact us at results@hbk.acesmat.uk to request that their results are sent to their school email address. These results will go out at approximately 9am;
Only students will be permitted on site. Any parents wishing to speak to a member of staff need to make an appointment via sixthform@hbk.acesmat.uk;
Year 10 and 12 students will be sent their results via their school email address at approximately 11am on their results morning.
If you are planning to be abroad on results day, please also email RCooper@acesmat.uk in advance, letting him know when you will be away, so we can grant you overseas permissions for the duration of your holiday.
All Year 11 students with conditional places for our Sixth Form must go to the website and click on the link to accept or decline their place by 8am on Friday 25th August 2023.
Services Available
Mr O'Shaughnessy and/or Mrs Tanton -Smith will be available on the results days to offer advice and guidance for next steps (Pedigree Room)
The Sixth Form Team will be available to assist any Year 13 students with clearance queries (Sixth Form Office)
If your results appear to have fallen short of the requirements for your next steps, the Exams Team will be available to discuss Post Results Services on the results days (Assembly Room) and for Year 13 Priority Review on Friday 18th between 10am and 12 noon (Reception). Use these links for A-level information and application form. Use these links to access GCSE information and application form.
On Friday 25th August Year 11 students needing or wishing to change their courses at HBK Sixth Form should come into school (Hinchingbrooke House) between 10am and 2pm, as the Sixth Form team will be available to check availability of courses and if requirements have been met, making changes where possible. Students unable to come in should contact the team on sixthform@hbk.acesmat.uk, letting us know what course you wish to change from and to.
---
Exam Certificates
Exam Certificates are now available for collection for the June 2022 exam season. These may be collected from school by prior arrangement by emailing kbeamish@hbk.acesmat.uk
We hold certificates from 2011 onwards. If you require earlier certificates, or if you have collected your certificates but have now lost them, it is possible to arrange for replacements from the exam boards direct on their general website under 'Replacement Certificates'. Guidance is available at https://www.gov.uk/replacement-exam-certificate