Books over breakfast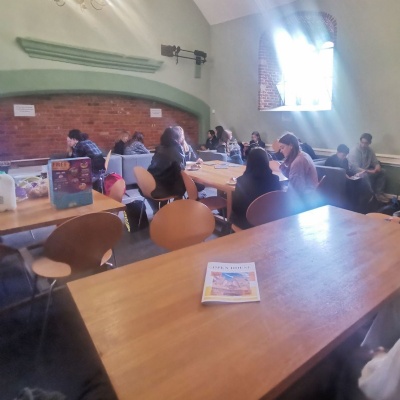 Team Literacy and the Sixth Form Team have united to bring another fantastic and exciting reading opportunity to year 7.
With the bonus of breakfast, our year 12 ambassadors have been paired with 15 lucky year 7s to complete a six-week peer reading programme called 'Books over Breakfast'. The programme got off to a fantastic start this week with a real buzz in the House while the pairs got to meet each other and started reading their books over breakfast. Exciting times which celebrate the power of reading – H.B.K. Literacy Team We are all aware of the benefits of reading as regularly as possible, so It was lovely to see 15 year 7 students reading to their year 12 partners in the House on Thursday morning. Everyone enjoyed the opportunity to get lost in a book with a croissant and jam. Well done to the year 7s for being brave and coming up to the House - equally well done to the year 12s for your patience and leadership. See you next week!