Year 11 Students Team Up with Cambridge University Undergraduates
40 Year 11 Hinchingbrooke students applied and have signed up for an inspirational programme organised by "Team Up" teamup.org.uk.
"Team Up" recruits talented university students to join a Rising Leaders' programme. These Rising Leaders then undertake a challenge that includes inspiring young people in their community. The desired results of the programme are that more pupils reach their academic potential and that the university students increase their leadership skills and enhance their career prospects.
The university students offer Maths, English and Science tuition to small groups of pupils for twenty hours throughout the autumn and spring terms. The Rising Leaders are hugely ambitious, excellent communicators and their positive attitude seems to rub-off on their pupils. For this reason, they are not only tutors, they are powerful role models.
Feedback has shown that:
Pupils' confidence levels significantly increased compared with those who did not receive tuition.
Pupils enjoyed the additional learning opportunities – of the pupils who completed our feedback questionnaire, 99% would like to continue with the programme next year.
Hinchingbrooke joins Comberton and Swavesey Village Colleges who are also participants in "Team Up" The programme overall has 600 university students signed up and has supported 600 pupils.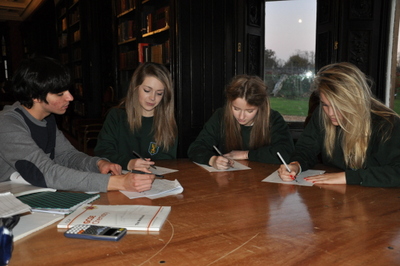 Mr Walker Vice Principal responsible for achievement and progress in school said " We are delighted to be part of this innovative, inspirational project. The Rising Leaders are so enthusiastic about their subjects that our students are excited about taking part in the programme and are already reaping the benefits of working with these positive inspiring undergraduates" One student said " I really enjoyed the session and revised nearly all of the topics from last year in the first meeting"
The school will be following the students' progress and hope that the programme will help students achieve well in exams and inspire them in their future learning and careers.
Photographs show:- Hinchingbrooke students working with their Rising Leader,Michael Paraskevopoulos from Team Up, Vicky Sizemore, Esme Fryer, Harriet Haymes (All year 11).