Week A Commencing 14th January 2019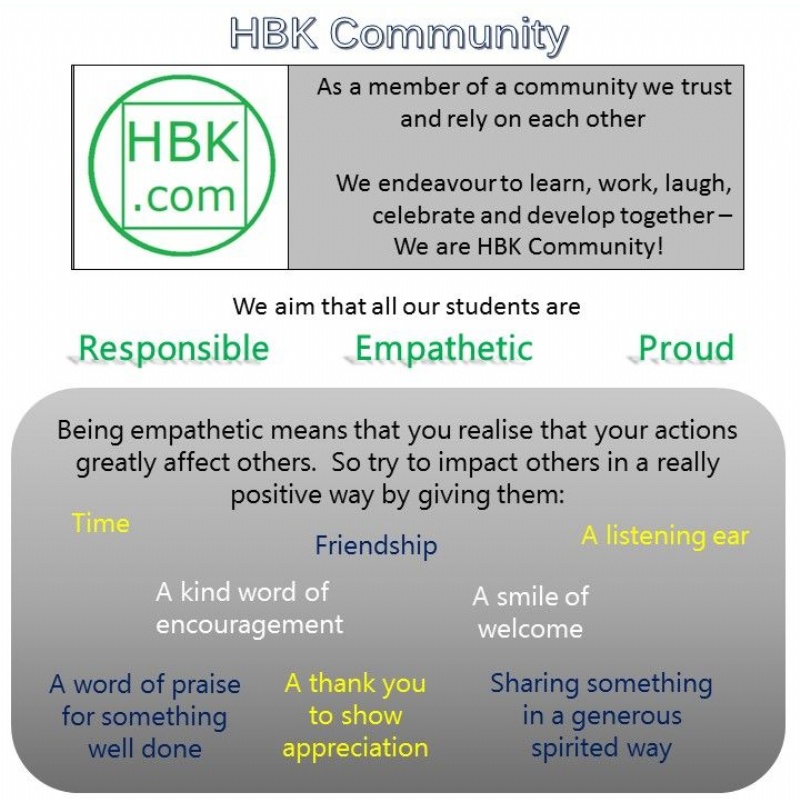 Welcome to week 18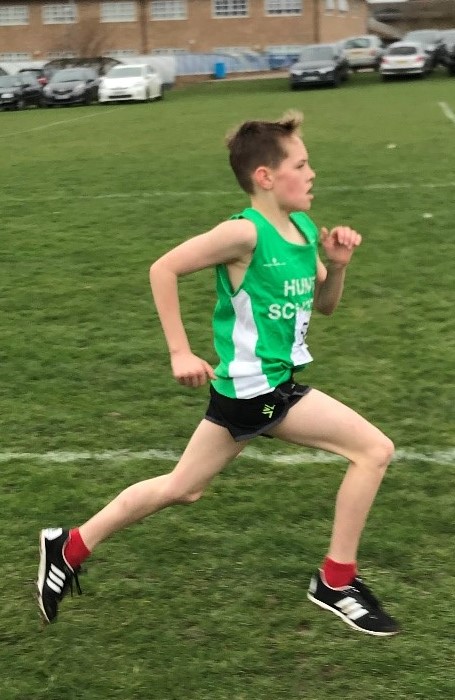 Well done to Liam Conway, pictured here in full stride as he heads towards the winning line at the Schools County Cross Championships on Saturday.
Liam won the Minor boys race and has now qualified for the Anglian Championships.
Mr Turnbull, Head of PE, says "Liam is the best Tri Athlete in his age group at the moment. A real prospect for the future."
We look forward to hearing much more about Liam.
Theme for the Week
Last week our theme focused on learning and respect. This week, we focus on empathy, on trying to put ourselves in someone else's shoes and show sensitivity to their feelings. As Paul Dix, CEO of Pivotal Education said, "Children need to leave school understanding the impact of their behaviour on others."
Simply giving time to listen to someone can make them feel happy – just because someone cares enough to hear them. It isn't always easy to truly listen to someone else, to pay attention to their thoughts and feelings, especially when we have something we want to say…
So this week, we're focusing on the importance of empathy – of working as a team, where everyone feels heard - and making Hinchingbrooke an even better place to learn.
A smile, a kind word, appreciation for something they have done can make someone else's day. And we feel better too as we feel gratitude towards that person.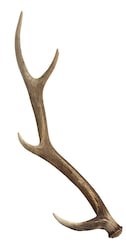 Golden Antler Winners
Every week, the tutor groups with the highest number of 5s (for great attitudes to learning) are awarded a Golden Antler trophy. Following the award of the trophy, the tutor arranges for a celebratory photograph to be taken. It is then displayed around school.
Last week, the Lower School Golden Antlers winner was …
… 7M1. Well done to the Montagu students who earned the highest number of 5s last week and are currently ahead of 7W1 by just one point.
And winner of the Middle School Golden Antlers was …
… 9P1. Once again, topping the board - for the eighth time in 10 weeks! We may have to start publishing photographs of the runners up as the Pepys students in this group are beginning to get camera shy!
Previous winners, 7W1, still searching for the antlers. Can you see them?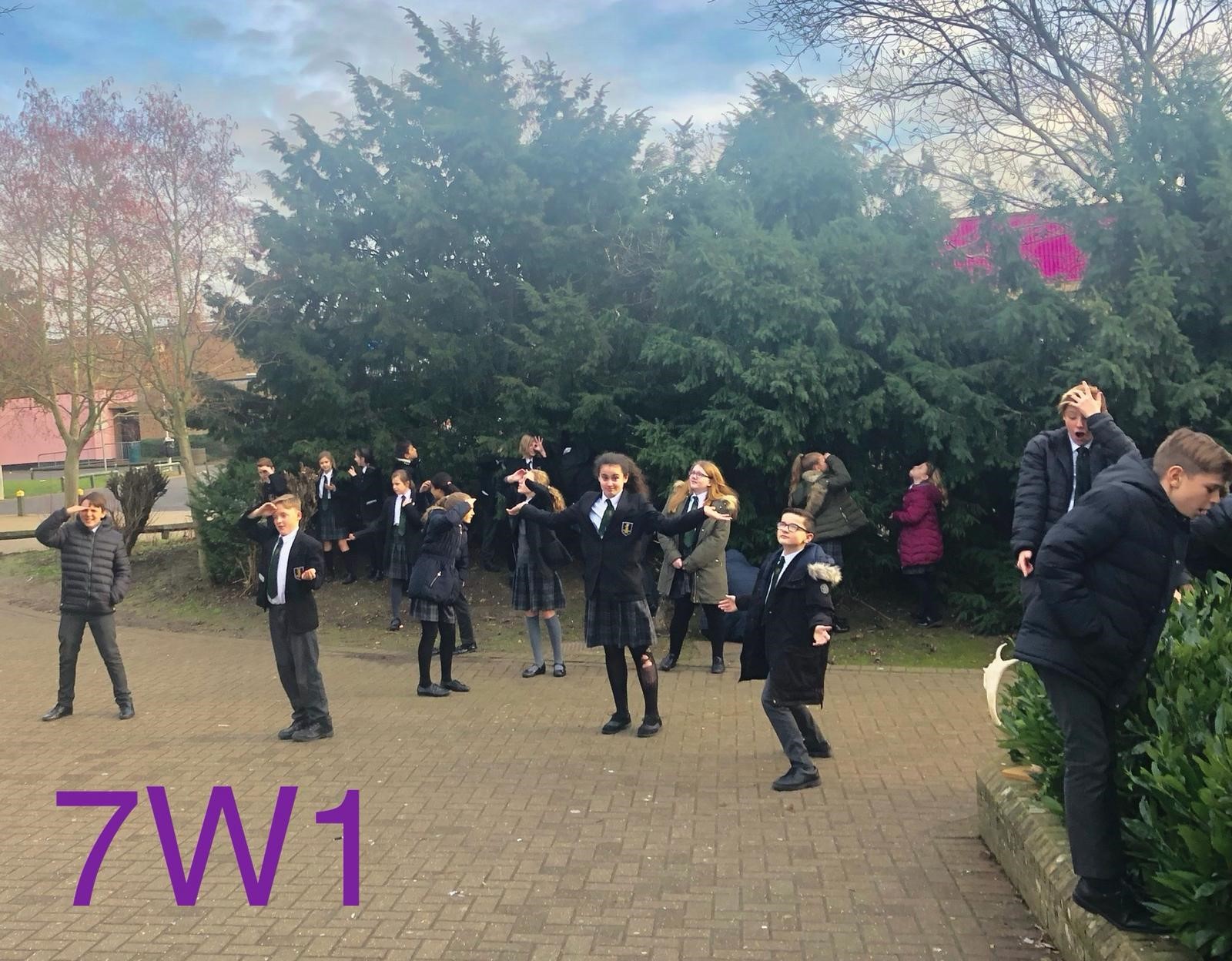 9W1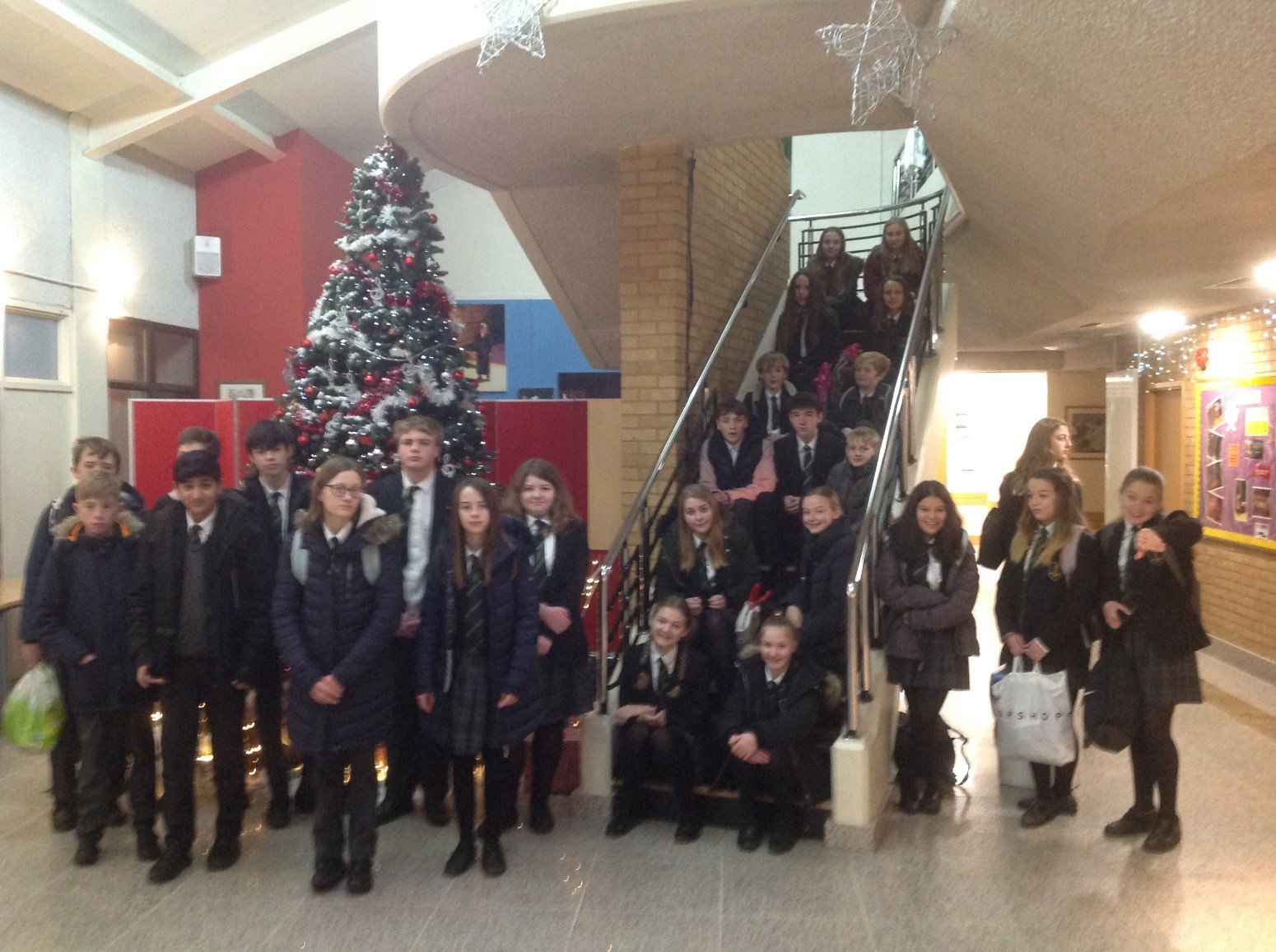 As 9W1 have won the Middle School antlers so often, they suggested that their tutor, Mr Westbury, should also have his photograph taken. Mr Westbury, below, with a little artistic help from his form: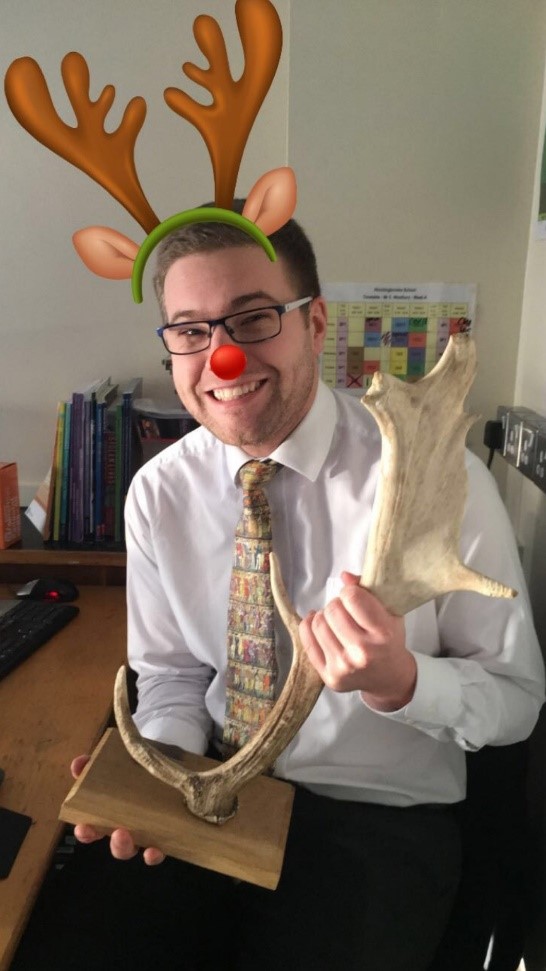 Hot Choc Friday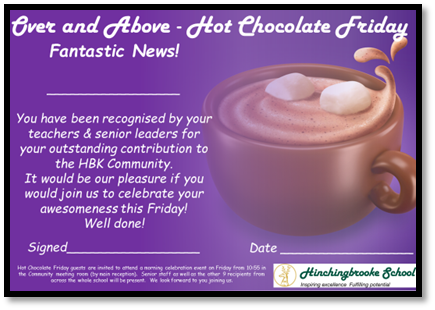 Celebrating members of our school who go over and above.
Last week, we celebrated the achievements of an individual in year 7, who is an excellent student and athlete: Sol has been working hard to improve his gymnastic skills at Huntingdon Gym and his hard work has earned him a place in the England gymnastics team. Already a star at Hinchingbrooke, Sol is a budding international gymnastics star of the future. Well done, Sol!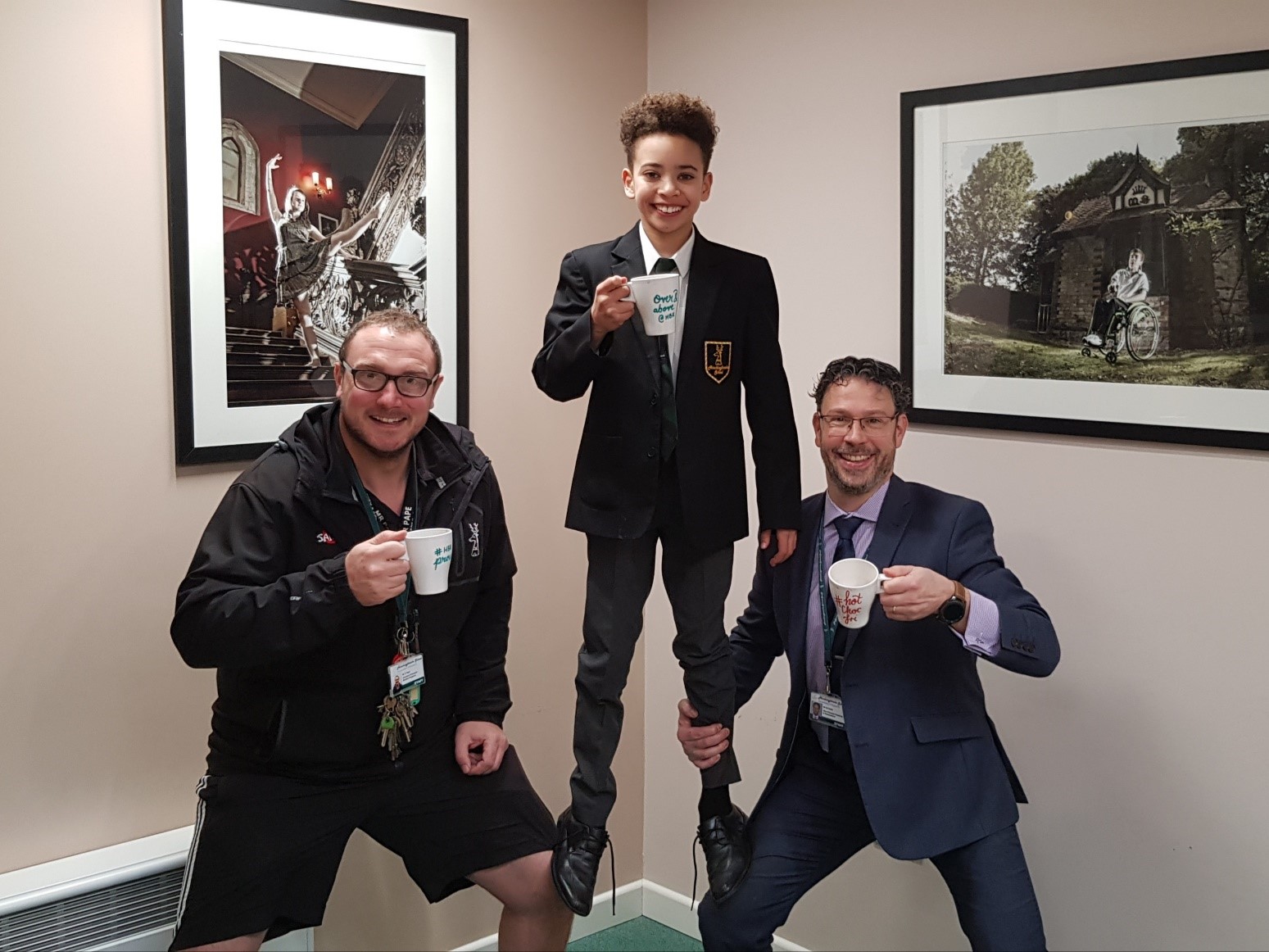 Dates for your diary
This week:
Rehearsals for 'Addams Family' continue
Y13 Trial exams continue
Next week:
Wednesday, 23rd January – Glastonbrooke Unplugged, 6.30pm, House
Thursday, 24th January – Parent Forum, 7pm, House
Future events:
Tuesday, 05th February – KS4 Success Evening, 4pm
Tuesday, 05th February – Y7, 9 and 11 Study Skills event
Thursday, 07th February – Y8 Parents Evening
Thursday, 07th February – Intermediate Maths Challenge
Tuesday, 12th February – Addams Family Production
Wednesday, 13th February – Addams Family Production
Thursday, 14th February – Addams Family Production
Saturday, 16th February – Half term break begins
Monday, 25th February – school resumes for all
For up to date news and photographs about other events this week, follow us on Twitter @HBK_School.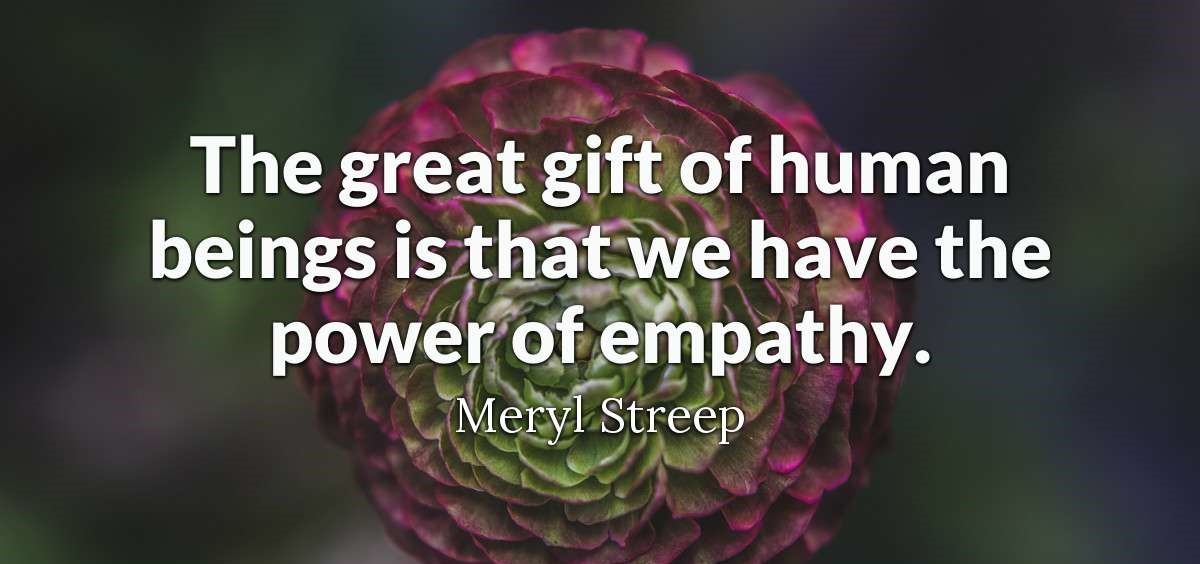 Lorraine Cunningham, Assistant Principal