Hinchingbrooke teacher receives Teaching award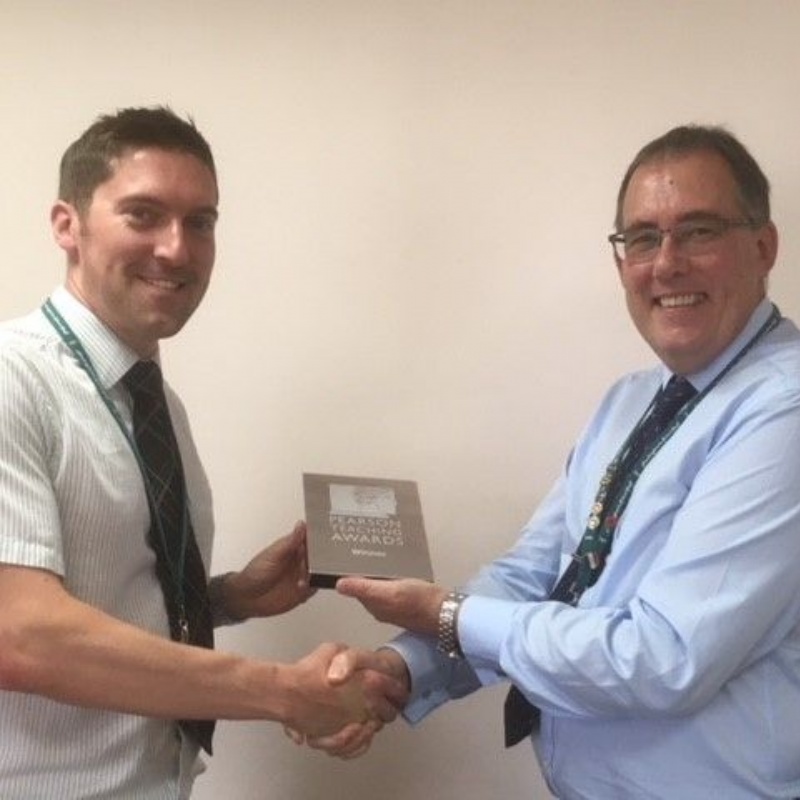 Local Teacher honoured in national celebration of teaching 2018 Pearson Teaching Award
Matt Woodfine of Hinchingbrooke School in Huntingdon wins a Silver Teaching Award in the category, The Award for the Outstanding Use of Technology in Education, supported by Google
Selected from thousands of nominations, Matt is one of just 65 winners who will be celebrated today on 22nd June - 'Thank A Teacher Day', as the national Teaching Awards marks its 20th year of celebrating excellence in education. Celebrations will take place in schools and colleges across England, Wales and Northern Ireland as the prestigious Silver Pearson Teaching Awards trophies are presented to outstanding teachers, teaching assistants, headteachers and lecturers.
Matt Woodfine's award for the 'Outstanding Use of Technology in Education' is in recognition of his ambition to use ICT to revolutionise the way Maths is taught in schools. Matt wants his work to have the widest possible impact and to ensure that it reaches every student, not just the privileged few. Over the past 8 years Matt has been relentless in this vision, producing an array of classroom tools and Apps that ease the workload of teachers in the classroom and provides accurate and personalised feedback for every student. His crowning glory, the Maths App, has not just become integral to the success of the Maths department at Hinchingbrooke but a cornerstone of Maths curriculums in schools across the country.
Several teachers and students from Hinchingbrooke School have been involved in the nomination and assessment process. In support of Mr Woodfine's nomination, student Lucy Jack, year 11, said: "I've always been under-confident and believed I couldn't do Maths. Over the two years that Mr Woodfine has taught me he's built my confidence and helped me to believe in myself."
Another student, Sophie Burnley, year 11, recognised that Mr Woodfine had gone above and beyond to support her and her classmates, "He puts in a lot of his own time to ensure that we do well and is always willing to help us whether it's during a lesson, a lunchtime or after school. He's made me really enjoy maths and his hard work deserves to be recognised."
The Pearson Teaching Awards are an annual celebration of exceptional teachers, founded in 1998 by Lord Puttnam to recognise the life-changing impact an inspirational teacher can have on the lives of the young people they teach.
Matt will now join fellow Silver Award winners, along with 3 Scottish Education Award winners and 3 winners of the Professional Teaching Awards Cymru, at the 20th UK Ceremony of the Pearson Teaching Awards, a glittering ceremony held in central London on 21st October. There they will find out which of them has won one of just 12 Gold Plato Awards, the UK's "Oscars for Teachers".
The October ceremony, titled "Britain's Classroom Heroes", will be filmed and broadcast by the BBC as a showcase of excellence in education.
On this special, celebratory day, the Teaching Awards is encouraging members of the public to say "thank you" to a teacher who has made a difference in their lives. Simply go to http://www.teachingawards.com/card, fill in a form online including a personal message and the teacher will receive a Thank You card in the post for free.