Week B - Beginning 1st February 2016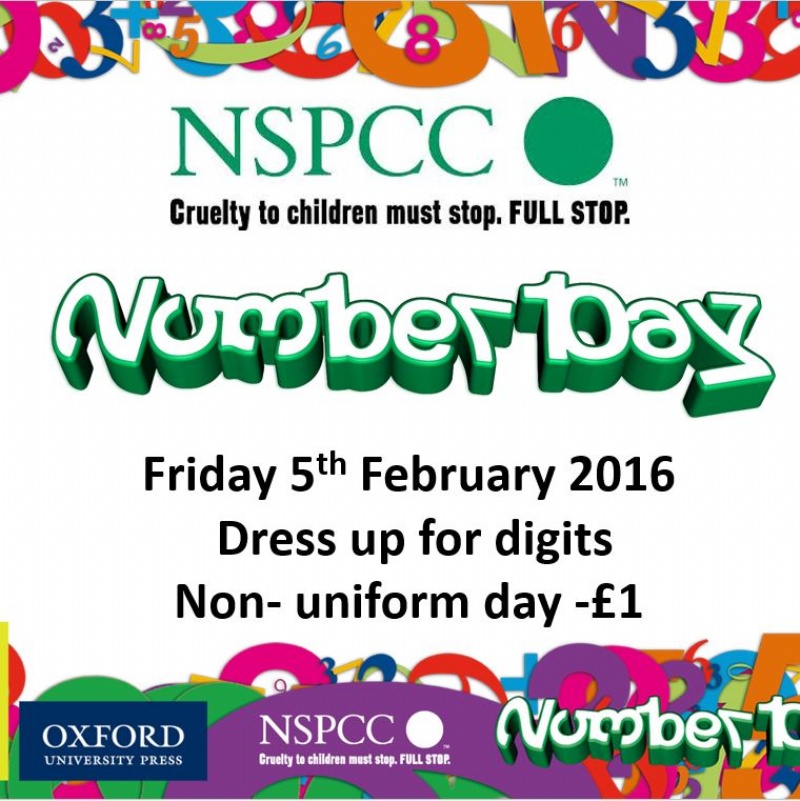 Where did January go? Time is just flying past at the moment, with so much exciting stuff packed into each week.
Our Chinese visitors remain with us this week and we have lots of students going out of school on various trips. Some Year 9 students are off to Whipsnade Zoo with the Science Department, whilst others are off to Duxford Museum on a Science Stem Visit. Mr Pape has also organised a rewards trip for Year 9 students to Bounce MK on Saturday. All exciting stuff...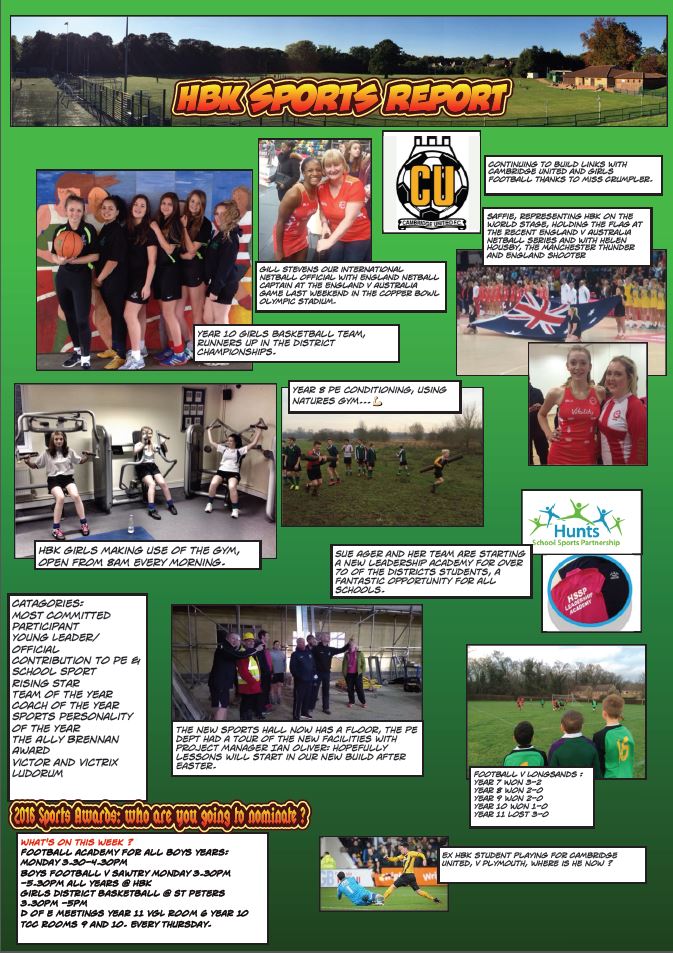 In addition there is the Intermediate Maths Challenge in the house on Thursday morning and on Tuesday 40 Year 11 students are involved in another study skills workshop, which will give them the skills they need to fulfil their potential this summer and build their confidence. Also 34 Year 12 students have the opportunity to work with filmmaker Ryd Cook this Friday to look at a range of techniques for their AS practical work. Once completed their films will be entered for the inter-school competition later in the year. To find out what PE have been up to please see this week's Sports Report by clicking on the link below.
http://www.hinchingbrookeschool.net/page/Default.asp?pid=471
Of course we look forward to seeing lots of parents on Thursday (4th February), at the Year 11 Parents' Evening. Reports will be coming out for this year group on Wednesday, so there will be plenty to talk about to ensure the students know exactly what they need to do before the summer. Students have had access to their reports for the last week or two, to enable them to get working on their EBI statements – so have hit the ground running.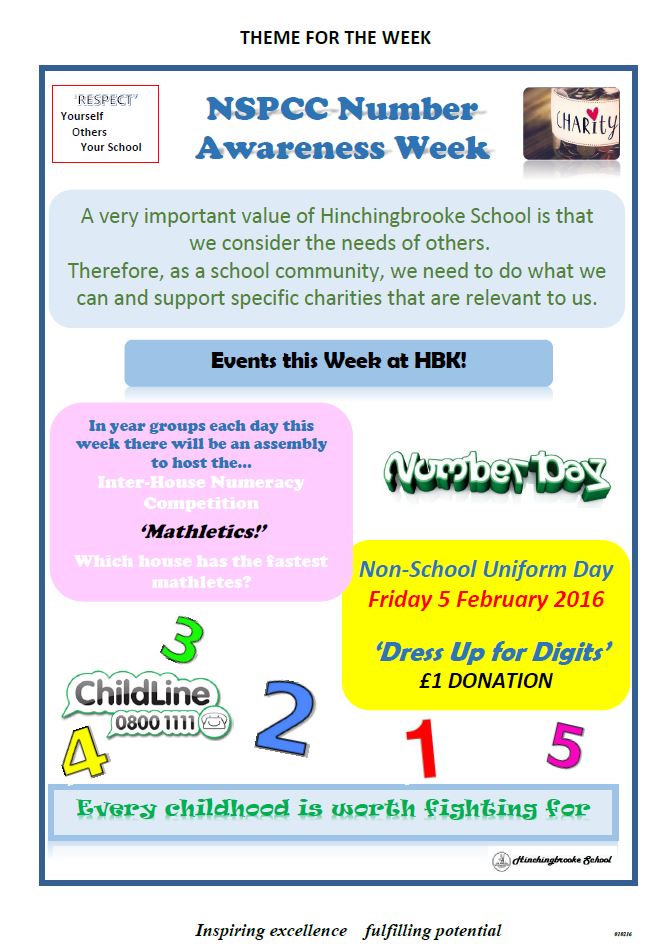 The Theme for this Week is all based around the numeracy focus, as it is NUMBER WEEK at Hinchingbrooke. This coincides with the NSPCC Number Day, which falls on Friday. Students will have special assemblies this week in which there will be 'mathletics' relay interhouse competitions; there are also be special activities in form time this week and th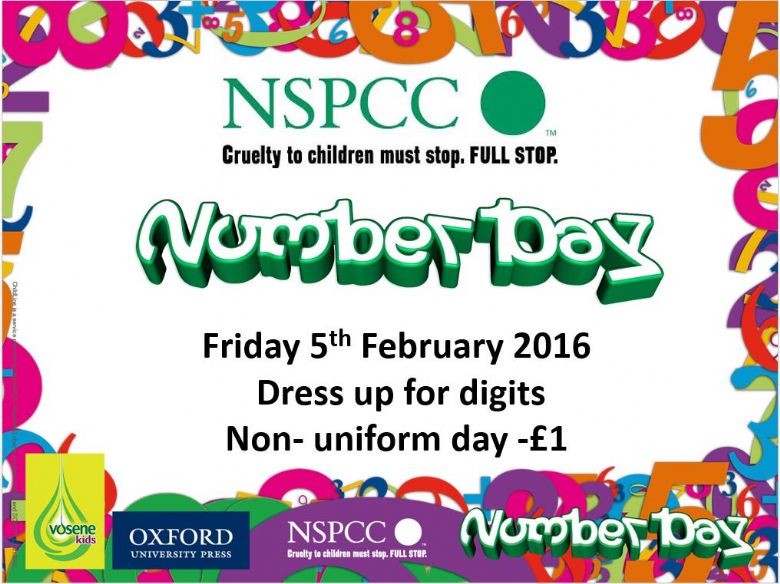 ere is a fancy dress interhouse competition on Friday (non-uniform day). Students need to bring in their £1 for this during the week, with all proceeds going to the NSPCC. The main objective of this is:
To engender the notion that every student can use their numeracy skills or their knowledge of numeracy to make a difference in other children's lives and ultimately their own by using numeracy.
Time is nearly up for getting your 'Loserville' tickets. The staging is starting to go up in the PAC for this year's school production, as the excitement and anxiety builds for our talented cast and crew. Get your tickets quick by going to:
http://www.ticketsource.co.uk/hinchingbrookepac
Slightly new section here to finish the message of the week. I thought I would include a DID YOU KNOW? Section. So here goes for this week: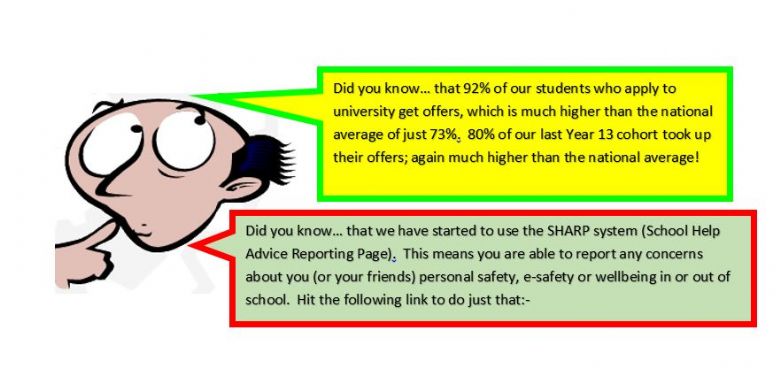 http://www.hinchingbrookeschool.net/page/?pid=490
Have a great week everyone
Anna Nightingale
Vice Principal