This Week
Home
Hinchingbrooke celebrates 450 years in 2015!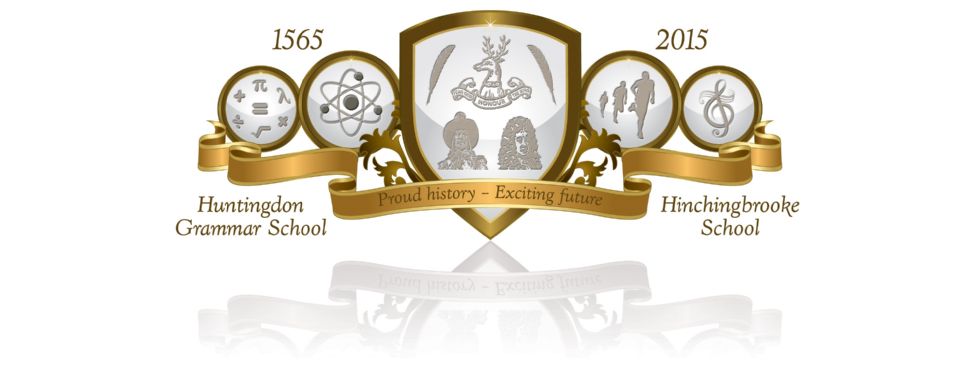 Did you attend Hinchingbrooke School? Sign up to our Alumni page, a safe secure site administered by 'Future First' allowing us to keep in touch. https://networks.futurefirst.org.uk/former-student/hinchingbrooke
Week beginning 26th January 2015 – Week A
The Personal Development Day last Thursday was a real hit. It was great to see so many students in different situations, whether that was trying out focusing techniques or experiencing yoga for the first time. There were lots of very impressed visitors and the students really made an effort to join in and try something new; they were a real credit to the school.
There are lots of trips this week and next, which is a great opportunity for our students to get involved in learning outside the classroom. The Art Department are out and about at the V&A Museum, the Tate Modern, British Museum and Contemporary Ceramics London. Not all on the same day I hasten to add, but with different groups of Year 11 students based on the course they are currently following. Mr Kilby and some students from Years 7-11 will be off to Bletchley Park on Friday. Not sure it's to break any codes, but it is related to ICT! The week after Year 7 Geographers are off to the Greenhouse Project in St Ives and the Year 13 Film Students are off to the Cambridge Arts Picture House on Thursday 5th.
We have recently had a letter from Newcastle University to share the fantastic news that some of our former students have been awarded their degrees. Joanna Davis - 1st class honours in Biomedical Science; Sophie Flack - 1st class honours in Physiological Sciences; Jacqueline Llaneza – 2.1 honours in Chemical Engineering; Jennie parker – 2.1 honours in Physiological Science; Constance Richardson – 2.2 combined honours. Congratulations to all. It is lovely to hear how well former students are doing.
This Thursday is another opportunity for parents to hear about the work of the school and to have an input. The Parents' Forum starts at 7pm, in the Assembly Room, Hinchingbrooke House. Mr Heath and Ms Terry will be explaining the new Special Needs and Disabilities Framework. This will be followed by a discussion about the different services parents would like the school to offer. At the recent Year 9 Parents' Evening for example, there were staff available to give Information, Advice and Guidance (IAG), Welfare advice and the local police were in attendance to offer the benefit of their experience. Are these the services parents would like to be available? Is the parents' evening the right time for these to be available? Come and join the discussion and have your say!
Talking of parents…congratulations to Ms Julia White, who has been appointed as a Parent Governor following the recent election.
The Year 9 exams are almost upon us. The timetable is on the website.
Students will have the genuine experience of having exams in public examination conditions. Good luck to all the Year 9 students. Remember how to revise (see the poster below). Reading through a book or set of notes is NOT revision!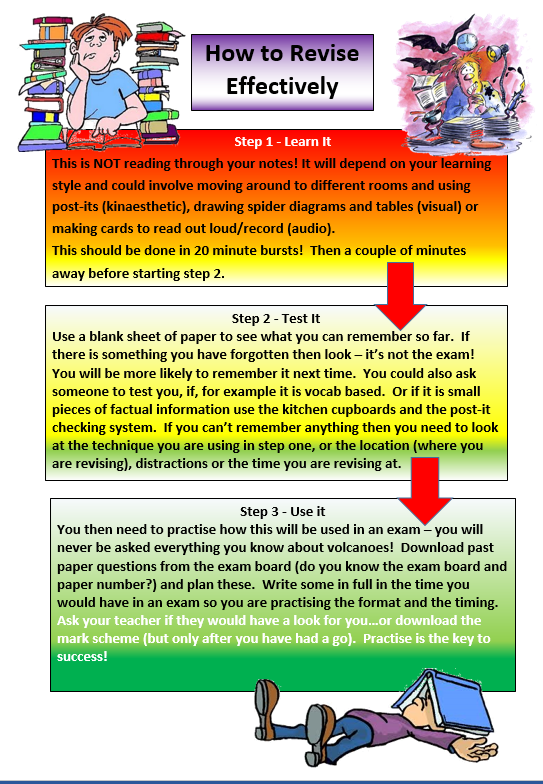 Don't miss out on the opportunity to see the latest Hinchingbrooke School Production: the Madness musical 'Our House'. Doors open between Monday 9th and Thursday 12th February at 7pm. Tickets are £8.50 (concessions £5.50) and can either be purchased by students through the cashier, located in the Year 11 Common Room, or by calling 01480 420502. All proceeds go to the Hinchingbrooke Productions Fund. We look forward to seeing you there and singing alongside you!
The Theme for this Week is all about having the right attitude. Students will be reminded of the type of behaviour we expect and that which is not acceptable. Remember it's not your beliefs that make you a better person it's your behaviour.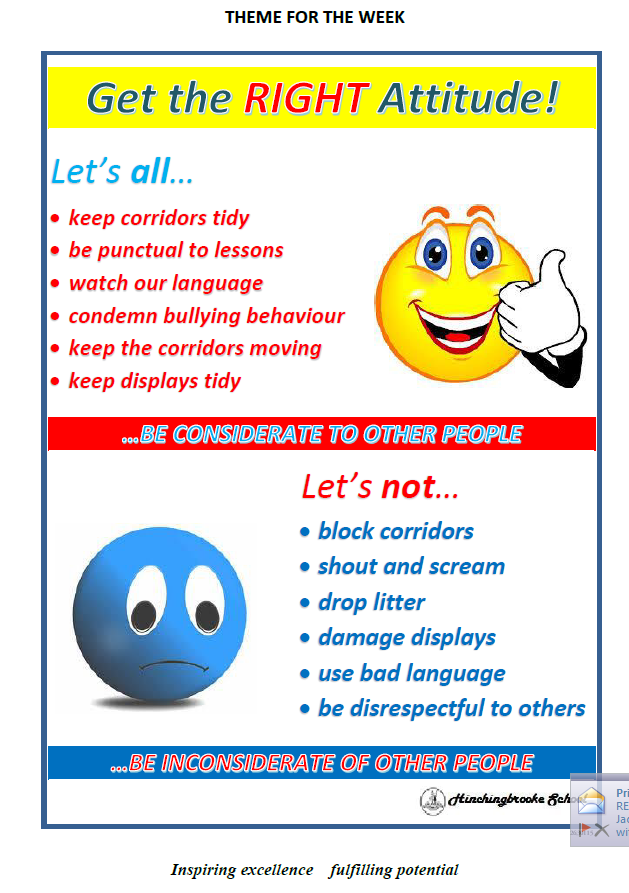 Anna Nightingale
Vice Principal
---