This Week
Home
Week Commencing 9th December 2013
Last week the Sixth Form opened for the annual open evening which was very well attended. Students who hope to join us next year for A Level courses had a chance to meet departmental staff and find out all about what Hinchingbrooke has to offer. Late into the evening on Thursday, year 12 A2 students had their Drama Performance Exams and earlier that day Year 11 students received their mock exam results. The aim was to replicate as closely as possible the actual summer results morning experience. Tutors were available to congratulate and commiserate, and to offer support.
This week we welcome some visitors to Hinchingbrooke as the Drama Department will be hosting a group of six students, two teachers and the Principal from a school in Pori, Finland. There is already an active pen-pal link in place between one of our year 9 forms and the school in Pori. We look forward to showing them around school.
The school begins to embrace Christmas this week with a small Christmas fair in the performing Arts Centre at lunchtime on Monday raising money for charity. On Friday year 7 will be taking part in a Christmas Carol competition where we expect a lot of excitement and tinsel. Form tutors will be asking students to contribute non-perishable food items for Christmas boxes which are sent out to older members of the local community. We look forward to receiving your contributions in school.
This week's Theme of the week is 'Staying on Task'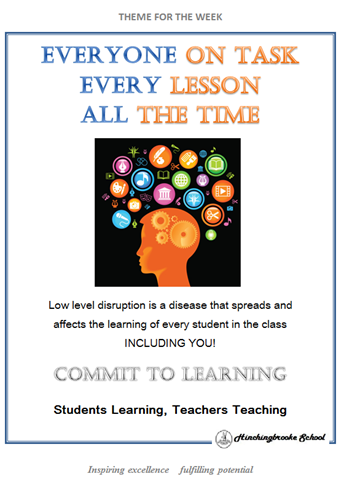 The Communications Team
---