This Week
Home
Week Beginning 17th November 2014 – Week A
There was a fantastic atmosphere at the Celebration Evening last week. It was great to see so many of our Year 11 from last year back together again, to celebrate their successes and being able to catch up with all their news since the summer. It was also great to hear that 3 of our Year 12 students qualified for the next round of the Maths Challenge. Ryan Perry has qualified for the Olympiad, and Edward Wilson and Robert Fielding for the Kangaroo challenges. Well done and good luck in the next part of the competition lads!
This week is another busy one, what with the Year 11 mock exams starting. There are Art exams all week and PE practical exams at the end of the week. The written papers start on Monday 24th November. To ensure that students finish exams and are able to get their buses, we are changing the order of the day from Monday 24th. Lunch will be slightly earlier at 12:15 – 13:00 followed by tutor time and then lessons 4 and 5.
We have the History Departments' evening to look forward to this Tuesday (18th) and Wednesday (19th). Their production of 'Our World…Our War' will be in the Assembly Room, Hinchingbrooke House from 7.30pm on both evenings with tickets being sold for £5. All proceeds will be going to the British Legion. It is a fantastic mix of history, song and drama which seeks to bring this period of The Great War alive with personal stories. Well worth coming along to watch.
On Thursday of this week we have Dr Mike Leahy joining us. He is a prominent Biologist and TV presenter who will be dropping by to give us an insight into diseases and parasites. Some 'lucky' Year 7 and 8 students will get to visit the Zoo Bus, which is essentially a double decker bus full of creepy crawlies (let's hope they are in boxes, and more to the point, that none escape!). All of Years 7 and 8 will have a presentation by Dr Mike Leahy in the PAC during the day and this opportunity will be open to both staff and parents for no charge between 19:00 and 20:00 on that evening (Thursday 20th). Students will be treated to a brief history of self experimentation. Dr Mike himself is described as one of TVs most daring science guinea-pigs, in TV shows such as 'Bodysnatchers', 'Invasion of the Bodysnatchers', 'Lab Rats', and 'Bite Me'.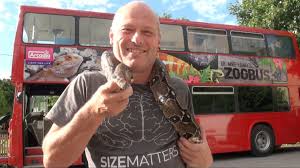 Coming up in the next few weeks is 'Number Day', led by our Numeracy coordinator, Mr Mike Hancock. Friday 5th December will be a NON-SCHOOL UNIFORM DAY with a twist. Like last year students will be asked to dress up as a digit (basically wear a number on a football shirt, cap, onesie etc) and pay £1 for the privilege. This supports the work of the NSPCC (National Society for the Prevention of Cruelty to Children). In the week of Number Day (1st – 5th December) our students will be following a numeracy and NSPCC focused week in form times, assemblies and in a Numeracy Inter-House Competition called 'Can you make it?' More information on this soon.
The theme of this week is Anti-Bullying. As it is National Anti-Bullying Week it is the ideal opportunity to remind students what bullying is and how we all have a responsibility to do something about it. Form tutors will continue the discussion around this very important topic in forms this week and beyond.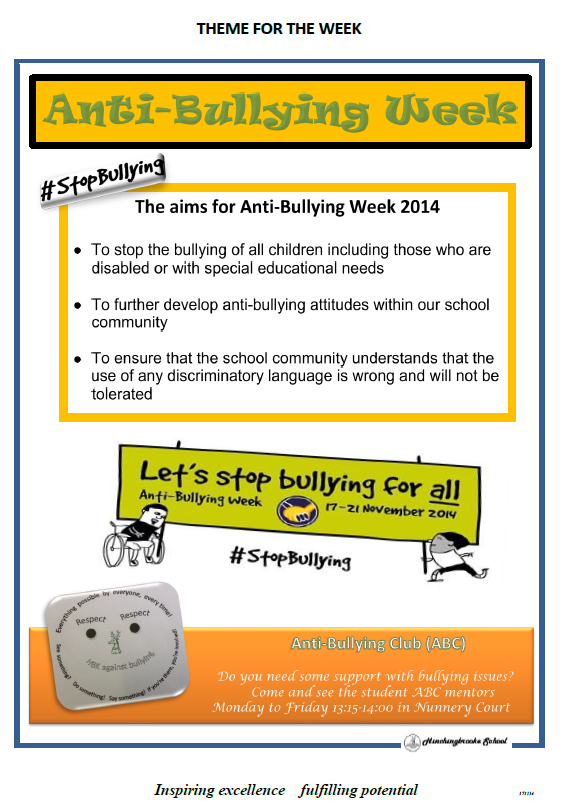 There is Year 7 Parents' Evening to look forward to next week and so with that and indeed with all the up and coming events in mind, may I remind you that 'Every moment is a fresh beginning' T.S.Lewis.
Anna Nightingale
Vice Principal
---