This Week
Home
Week Commencing 29th September 2014 – Week A
At the end of last week 35 students from Year 9 were inducted into the British Army! It wasn't a new government initiative, but part of the World War One re-enactment workshops. A special thanks goes Jasmine Thompson for her fantastic and moving reading at the sunset service on Saturday. We have our own plans for the 100 year commemoration, which departments will be working on shortly.
The staff had a special MacMillan Coffee morning on Friday. As cake was involved it was no surprise that it was well attended by staff and we raised a brilliant £142. There are a lot of requests for the chocolate coca-cola cake recipe – which I am told tastes a lot better than it sounds!
We start this week with a Street Wise Workshop for Year 7 during their first lesson on Monday as a follow up to the road, bus and cycle safety assemblies from last week. A group called 'Performance in Education' use drama to educate the students and give them greater awareness on their journey to school. The performance will conclude with a Q&A session where students can disucces what they have watched and discuss strategies for staying safe. They will also be spoken to about how to be more independent now they are in secondary school, including taking responsibility for their own safety when travelling to and from Hinchingbrooke. The Geographers are out and about again, this time Year 12s are off to Snowdonia on Friday. Additionally 15 Year 8 students are heading off for the English School's Football Cup on Tuesday 30th. We wish them luck!
A new lunchtime rota is starting from today, to avoid some students spending the majority of their lunchtime lining up in the PAC. See the table below for who goes in first on what days. I have no doubt that because Friday is fish and chips day that it will be a hard fought battle and will have a positive impact on attendance.
This Tuesday (30th) is also 'Meet the Tutor' evening for the parents of our Year 7. We hope to see as many of you there as possible, so that after hearing your child talking endlessly about their form tutor, you are able to put a face to a name. There will also be more information about the logistics of being a Hinchingbrooke student, an informal talk given by form tutors and an opportunity to ask questions.
Next week the school will be opening it's door to prospective Year 7s in our Open Evening (Tuesday 7th October) with a follow up Open Morning on 8th. Departments are preparing to amaze the potential new students in a changed format. All departments will be open with interactive displays, students to ask questions to and smiling staff.
The Theme of the Week is punctuality. If students are getting to lessons late it disrupts them and means they are not benefitting from a full hour of learning. Late marks are recorded on our system and detentions are given out!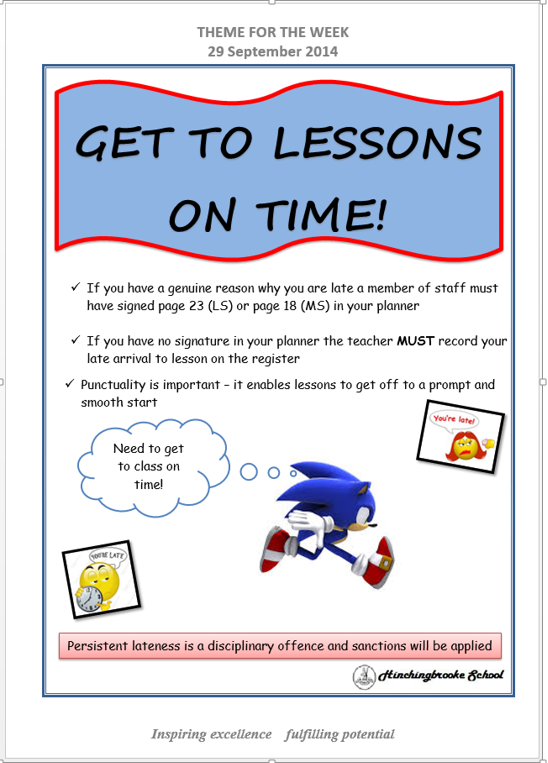 And so as another busy week unfolds remember that… 'nothing GREAT was ever achieved without enthusiasm' (Emerson).
Anna Nightingale
Vice Principal
---