This Week
Home
Week Commencing 2nd December 2013
Last week saw staff and Governors saying a fond farewell to Carolyn Price who has worked at Hinchingbrooke for 21 years. Carolyn who was a pupil here has worked as a PA to four consecutive Head teachers; Peter Downes, Peter Sainsbury, Keith Nancekievill and the current Principal Andrew Goulding. In a series of farewell events last week all paid tribute to her dedication, professionalism, integrity and incredible work ethic over the years. We wish her much happiness in her move to Norfolk. We also welcome her successor Rosie Eacott who is already well established in her role following a handover period with Carolyn.
Last week saw two wonderful performances of "Return to Berlin" by sixth form students, who had worked really hard preparing the performance. Some had even written their own roles. The production was well attended and was performed in the wonderful atmosphere of Hinchingbrooke House.
This week the sixth form open their doors for the Sixth Form Open Evening when year 11 students and their parents/carers can find out more about the A Level courses on offer. The Evening is on Tuesday 3rd November commencing with a presentation at 6.30pm in the Performing Arts Centre and continuing in Hinchingbrooke House where subject teachers will be available to talk about the different courses on offer.
Please follow the link below for more information
http://www.hinchingbrookeschool.net/news/?pid=11&nid=15&storyid=316
We look forward to seeing you there.
This week's Theme of the week is 'Stay Calm and Keep Learning'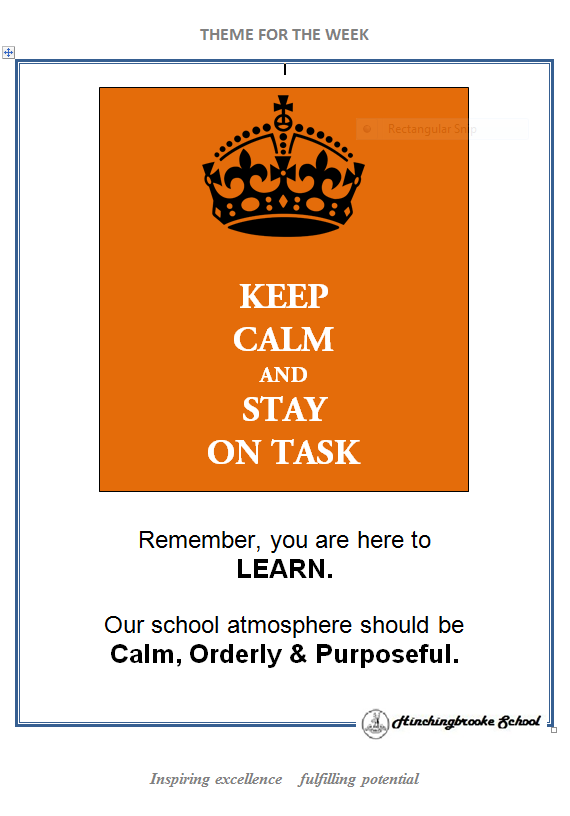 Communications Team
---