This Week
Home
Hinchingbrooke celebrates 450 years in 2015!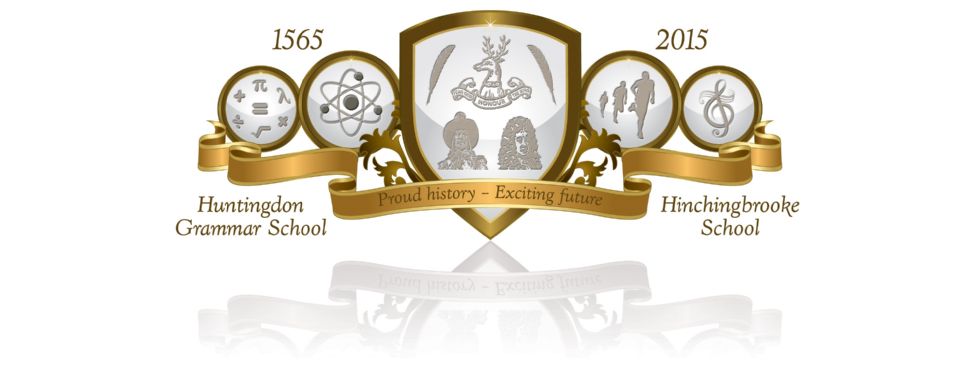 HINCHINGBROOKE SCHOOL 450th ANNIVERSARY EVENTS IN 2015
HINCHINGBROOKE HOUSE OPEN TO THE PUBLIC
SATURDAY 2nd AND SUNDAY 3rd MAY 2015 11AM – 5PM
FREE ADMISSION TO
History Exhibition by Huntingdon Archive
Flower Festival by Brampton Flower Club
Art Exhibition by School Students
Hinchingbrooke House Tours and Teas 2-5pm £5/£4
Other anniversary event dates in 2015 for your diary:
FOUNDATION OF HINCHINGBROOKE SCHOOL SPECIAL RECOGNITION AWARDS ON WEDNESDAY, 21st OCTOBER 2015 AT 7PM IN THE
PERFORMING ARTS CENTRE
(Application details on the school website on 450th Anniversary page)
HUNTS PHIL AND HINCHINGBROOKE MUSIC STUDENT CONCERT ON
THE EVENING OF SATURDAY, 7th NOVEMBER IN THE PERFORMING ARTS CENTRE
Did you attend Hinchingbrooke School? Sign up to our Alumni page, a safe secure site administered by 'Future First' allowing us to keep in touch. https://networks.futurefirst.org.uk/former-student/hinchingbrooke
Week Commencing 20th April 2015 – Week B
Hinchingbrooke in the sunshine is a great place to be, especially when surrounded by students all in the new uniform looking smart. Many thanks to all parents/carers for your hard work and cooperation in making this happen. If you have any old uniform at home and wish to donate it to school, please send it in with your son/daughter. The money the school receives will be used to help fund other recycling and eco projects which will be run by the newly formed section of the Student Council; the 'Eco-Warriors'. The few remaining brand new items of the old style uniform will be taken to Sri Lanka on the trip that Mrs Woolhouse is running in the summer and will be donated to a school in need they will be visiting.
This week the Geographers are out and about again. Their Year 10 students are off to Hunstanton on Monday and Tuesday to collect the data for their controlled assessments. Wednesday and Thursday sees the Theatre Studies AS students completing their practical exam and on Friday a large number of Year 11 students will take part in a MFL intervention day (periods 2-4) where they will have the opportunity to improve their controlled assessment grades. Good luck to all involved and remember to give it your best shot (and for the geographers, try not to fall in!).
In addition to the Interhouse Reading Competition, (as launched last week and reported here) there will be an Interhouse 'HBK's Got Talent' competition. Talented singers, bands, dances, magicians, comedians, gymnasts, circus acts, musicians, contortionists and dramatists are welcome to audition. The shows will take place on Tuesday 5th and Wednesday 6th May, so please encourage your talented children to get involved, especially if they are in Pepys (no favouritism, obviously).
Also you may have noticed that the 450th Celebrations and the anniversary weekend is fast approaching. On 2nd and 3rd May Hinchingbrooke House is open to the public between 11am and 5pm. Admission to the History Exhibition, Flower Festival, School Art Exhibition is all free. Hinchingbrooke House Tours and Teas run between 2-5pm and cost £5/4 and there is an anniversary lecture by Dame Hilary Mantel at 7.30pm (£7). Who knows maybe Hinchingbrooke House will be the setting for her next thrilling historical novel!
This week's theme relates to the students taking care of this historical site, by ensuring that their litter finds it's way into a bin, which brings us neatly back to our starting point with our Eco-Warriors.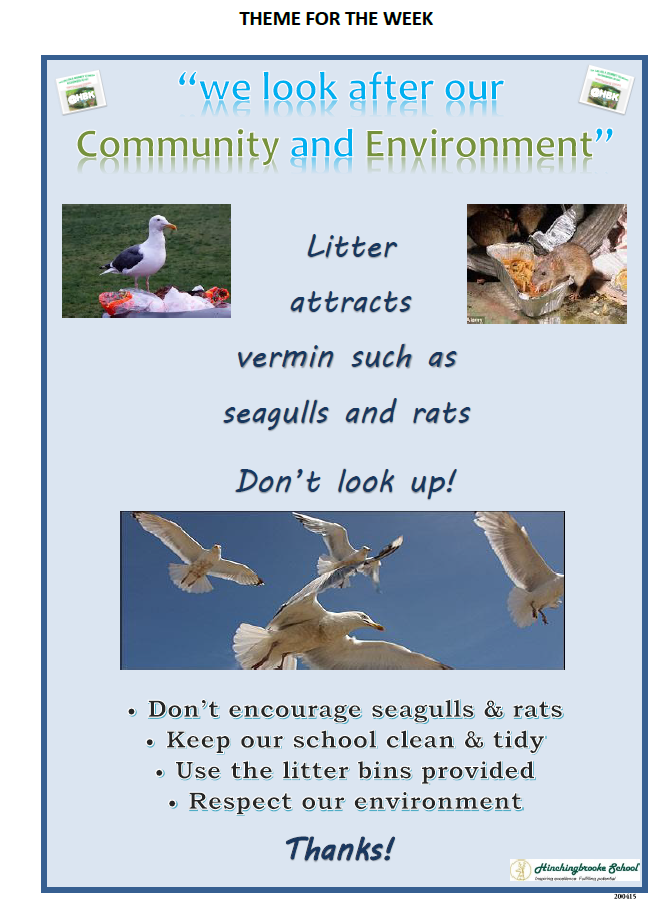 As Confucius says; "Our greatest glory is not in never falling, but in rising every time we fall". Failure is not our enemy, it is there to train us and make us more resilient in the future. It's resilience which makes us better, stronger, faster… We need to learn to embrace our failures and learn to use them to improve who we are.
And on that note…have a good week.
Anna Nightingale
Vice Principal
---