This Week
Home
Hinchingbrooke celebrates 450 years in 2015!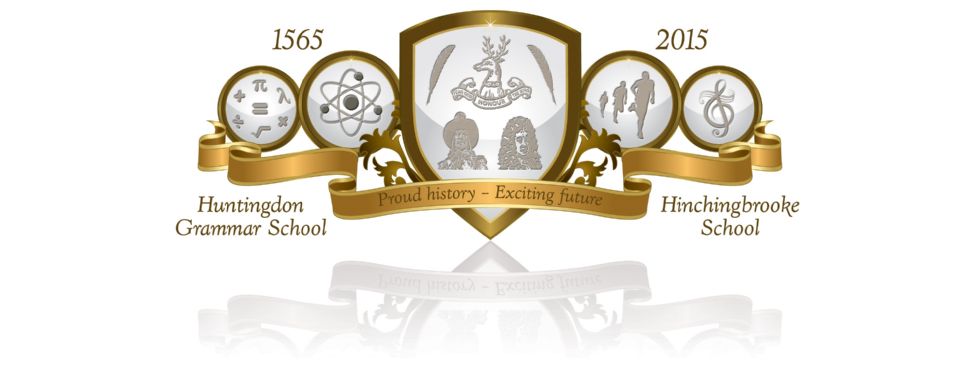 Did you attend Hinchingbrooke School? Sign up to our Alumni page, a safe secure site administered by 'Future First' allowing us to keep in touch. https://networks.futurefirst.org.uk/former-student/hinchingbrooke
Week Beginning 18th May 2015 – Week B
Last week saw the start of the GCSE written papers, and lots of students reported feeling confident after a number of exams, which bodes well for this summer. The exams are set to continue this week for Years 11, 12 and 13 for a little while yet, so keep on revising folks…the end is in sight!
At the end of last week interviews for the new Assistant Principal post were held. We are thrilled to say that Mr Tom Grey really impressed all round, and will be joining Hinchingbrooke staff in September. As we welcome staff, we are also saying goodbye to key members of staff at the end of this week. Mr Dick Dunkley, Head of DT, will be leaving us to start his retirement after years of putting the school first. We wish him all the best as he starts a new chapter in his life. We also wish Hayley Weightman (Senior Tutor) and Sheila Wotherspoon (Communications Manager) well as they take their leave and move onto pastures new. Many thanks to all of these key staff for their many years of service to the school.
On the theme of saying goodbye and good luck, there are a number of leaving assemblies this week. On Thursday it is the turn of the Year 12 students who plan to move on after their AS exams, and on Friday both Year 11 and 13 will be saying a sad farewell. I look forward to seeing the Sixth Form team perform their annual dance and hope all involved don't need too many tissues to mop up their tears!
Year 10 work experience continues this week, with many tales of success reaching us via staff visits and phone calls. Many have been described as punctual, hardworking and showing great initiative, which is always lovely to hear. Let's hope they all enjoy the second week as much as the first.
The reading challenge continues to see Vesey running away with it. They have already filled their flask, and are now on to filling their second one! Come on Pepys, and of course the other Houses...let's catch up and give the reds a run for their money!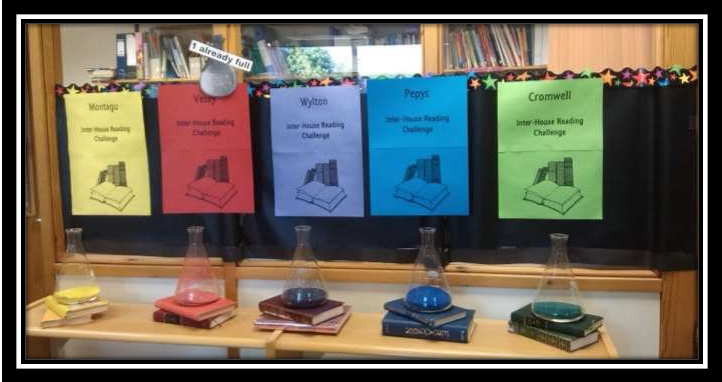 We are also starting to plan and look forward to the Sixth Form Induction for Year 11 students which will take place on 10th (teambuilding day) and 13th (Taster Lessons) July. It will be great to welcome the Year 11 back along with the students who are joining us form other schools.
The Theme for the Week continues to explore the theme of respect. We are asking students to remember that racism is never acceptable and to think about what they say and even how they say it to avoid causing offence. It is rare at Hinchingbrooke, but worth reminding the students of the standards we expect. As Abraham Lincoln said "Achievement has no colour".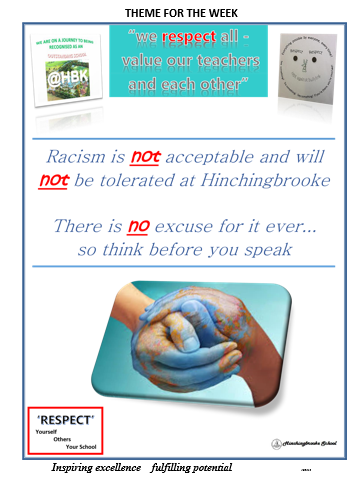 Have a great week and a fantastic half term when it arrives.
Anna Nightingale
Vice Principal
---