This Week
Home
Week Commencing 13th October 2014 – Week A
What a week last week was! We had the Rock Doctor in presenting to Year 10, 11 and parents…and it turns out it was nothing to do with sedimentary rocks and the like, instead it was all about the Science of Rock 'n' Roll. You know what they say…'If it's too loud, you're too old', well I don't mind admitting it was loud…but wow, what a guitarist!
There were lots of very impressed Year 6 students on the Open Evening and again on the Open Morning. Lots of fantastic ambassadors of the school at both events, looking smart and really able to talk with confidence and pride about Hinchingbrooke. We are very lucky to have such a wonderful set of students to represent us on such occasions. We have had a lot of very complimentary emails too…
'Just a quick note to say how impressed I was by the event, the helpfulness, enthusiasm and practical lessons last night! My son and I really enjoyed it. It was impressive to see such dedication…'
'As a potential HBK parent, it was heart- warming to hear my son come home and talk of the three girls and their enthusiasm for the school. My husband also spoke very highly and said they had been excellent ambassadors for the school; very polite, confident and very complimentary and enthusiastic about Hinchingbrooke School. '
The Year 11 Drama students are out and about in London today, off to see War Horse (I hope they have their tissues handy!). We have the fabulous Albert Lee performing in school on Wednesday (15th) thanks to Mr Ingrey's connections. Additionally there is the Parents' Forum on the future of Hinchingbrooke's Sixth Form on Wednesday (15th) in the Assembly Room in Hinchingbrooke House. This will enable Director of the Sixth Form, Charlie Fordham to outline the changes the government have brought in for KS5 and to propose a number of Sixth Form models we could adopt here. The aim is to inform you and listen to your views, so we can feed these into the decision making process. If you are interested in attending (and parents from all year groups are very welcome) please let Jackie Moore know (jm@hinchbk.cambs.sch.uk).
Mr Walker has also invited around 70 students and their parents to attend a special Exam Success Evening, targeted at students in English, Maths and Science. The aim is to fulfil potential and inspire excellence.
With half term nearly upon us (how did that happen?) please look out for the Progress Reports coming home for most year groups before the break. We will endeavour to send parentmails home on the relevant day so you know when to expect them. Please let us know your thoughts, or that you have merely received the report by sending the return slip in with your son/daughter. There are housepoints up for grabs depending on how quickly they return their slip!
The Theme of this Week is all about giving your best to your House, by getting involved in the inter-house competitions and generally getting Housepoints and rewards.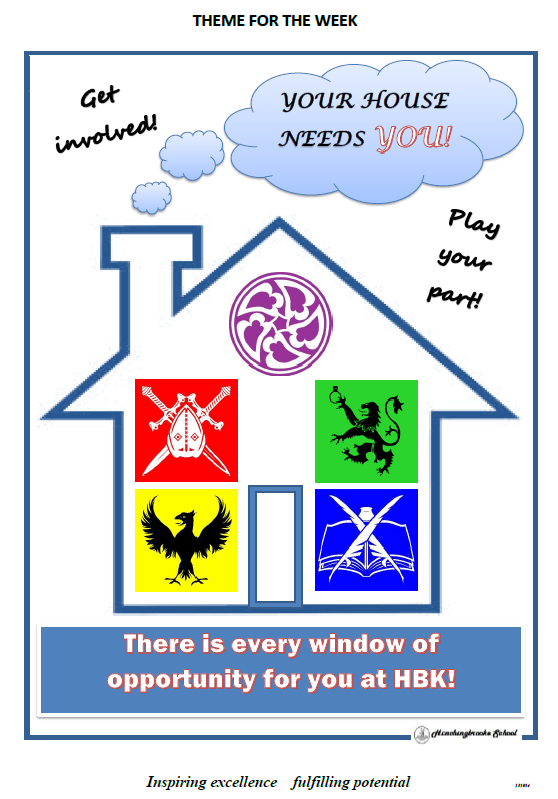 There is now a homework timetable for all year groups. This should help you as parents to know what homework is being set. Because of complications in the timetabling Year 7 and Year 9 are written for teaching groups (which is on your child's timetable) as opposed to form groups like the other year groups. Homeworks could, and will take a range of formats from learning spellings of keys terms, to research and project based work, reviewing and revising to past paper questions to name but a few. So you should have noticed an increase in homeworks this year – to raise expectations, achievement and consistency (and if nothing else to get them up from in front of the TV/Game Boy). Please use the link below to see the homework timetables.
http://www.hinchingbrookeschool.net/page/?title=Homework+Timetables&pid=73
Here's a picture from one of the many trips out this half term. The Year 12 Geographers at Snowdonia. Bet they slept well that night!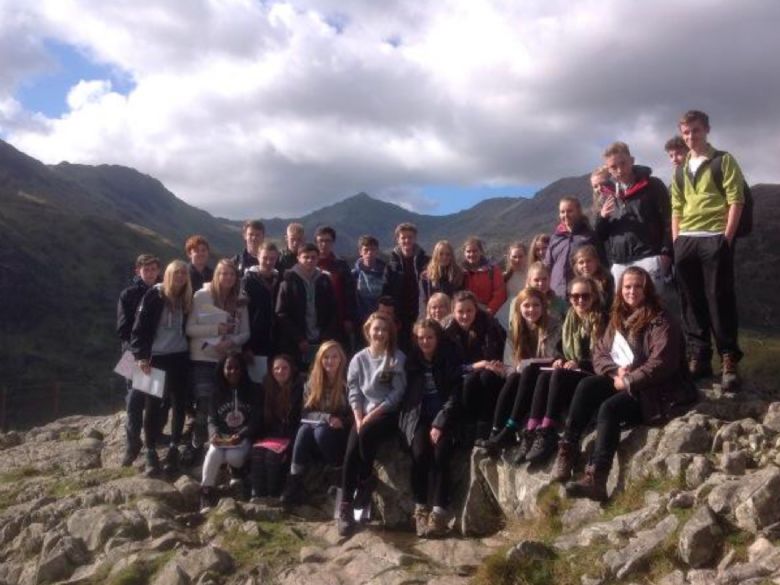 So as the rain continues to pour and we speed towards half term 'Don't count the days, make the days count.' Muhammed Ali.
Anna Nightingale
Vice Principal
---