This Week
Home
Hinchingbrooke celebrates 450 years in 2015!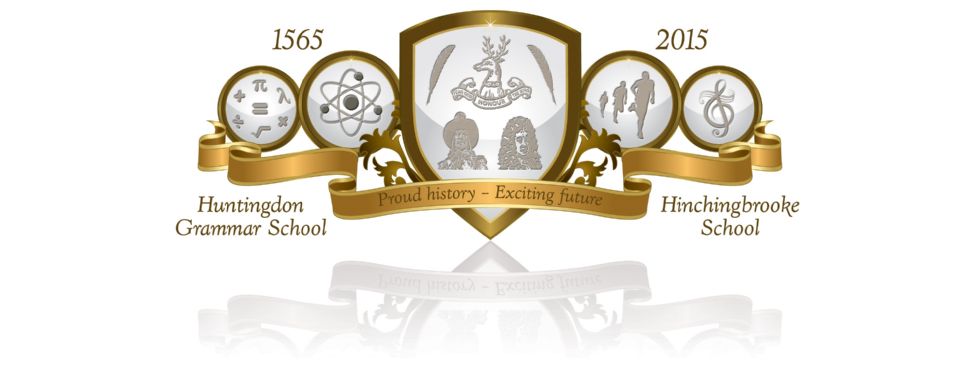 HINCHINGBROOKE SCHOOL 450th ANNIVERSARY EVENTS IN 2015
HINCHINGBROOKE HOUSE OPEN TO THE PUBLIC
SATURDAY 2nd AND SUNDAY 3rd MAY 2015 11AM – 5PM
FREE ADMISSION TO
History Exhibition by Huntingdon Archive
Flower Festival by Brampton Flower Club
Art Exhibition by School Students
Hinchingbrooke House Tours and Teas 2-5pm £5/£4
Other anniversary event dates in 2015 for your diary:
FOUNDATION OF HINCHINGBROOKE SCHOOL SPECIAL RECOGNITION AWARDS ON WEDNESDAY, 21st OCTOBER 2015 AT 7PM IN THE
PERFORMING ARTS CENTRE
(Application details on the school website on 450th Anniversary page)
HUNTS PHIL AND HINCHINGBROOKE MUSIC STUDENT CONCERT ON
THE EVENING OF SATURDAY, 7th NOVEMBER IN THE PERFORMING ARTS CENTRE
Did you attend Hinchingbrooke School? Sign up to our Alumni page, a safe secure site administered by 'Future First' allowing us to keep in touch. https://networks.futurefirst.org.uk/former-student/hinchingbrooke
Week Commencing 27th April 2015 – Week A
Well term continues a pace in the sunshine. As the exams get ever closer, some students are already completing aspects of their GCSE and A 'Levels this week. PE students have their practical exams, A' Level artists have theirs and the Drama students continue to act up for their exams. As always we wish these students the best of luck, and to break a leg – but not the PE lot…that would be disastrous! In addition there are lots of extra sessions for students to attend at lunch times and after school to aid revision and help focus them on the task ahead.
About 100 students from Year 7 and 8 are involved in the Junior UK Maths Challenge this Thursday over in the beautiful setting of Hinchingbrooke House. They will have to answer a number of questions designed to test their Maths knowledge and ability and their answers will be marked using the university style (negative marking). The top 5% from our school, and all other competing schools will then progress into the 2nd round – The Olympiad. As the rounds unfold the students getting through will be the elite mathematicians and have the opportunity to get to Hungary! So all the best to those taking part.
We have the 450th anniversary this weekend (2nd & 3rd May) with exhibitions, the House being open to the public with tours and teas, art exhibitions and a lecture by Dame Hilary Mantel. One of the exhibiting artists was from the class of 1938-39. His work has recently been uncovered and comes with a tragic story. The artist, Eric Woodward was about to attend The Slade Academy (part of University College London) when instead he was called to serve his country. Later he joined the RAF, and as with so many other young men at that time, gave his life for his country, and never realised his true artistic potential. His work was kept by his Hinchingbrooke art teacher, and has now found it's way back to the school. This is a unique opportunity to see the work of a young, exciting and raw talent, which was sadly never fulfilled.
On Tuesday 28 April between 7-8pm Andrew Goulding and Caroline Sheffield will be featuring on Huntingdon Community Radio, HCR 104fm. The programme is called "Over to You".
The topic is the school's 450th Anniversary celebrations. You may like to listen in.
The Year 10 students will soon be out on work experience. The students get an opportunity to experience the world of work for a two week period (11th -22nd May) which has the added benefit of helping to focus them even more when they return to school. There are some great placements which have been sourced, and students are off to solicitors, Huntingdon Olympic Gym, veterinary surgeries, museums, the local radio station a Mercedes showroom just to name a few. One student is off to Yorkshire to work in specialist surgical care, but believe it or not that's not the furthest place. One student is off to Hong Kong for their placement – what an incredible opportunity? My favourite though, is the lucky student who gets to go to Hotel Chocolat – my idea of the perfect job!
Please can we ask for your continued assistance regarding girls' skirts. By turning them up, the zips will break. They will be challenged in school, so please can you also remind them at home not to turn them over at the top.
The theme for this week is anti-bullying. It is a theme we revisit throughout the year to ensure it remains high profile. Whilst technology is a wonderful thing is does enable students the anonymity to make comments on social media sites. Our aim is to educate the students in the correct way to use social media and the importance of not making hurtful comments. We need to celebrate our differences, these are what make us interesting after all!
…and on that note, as Benjamin Disraeli said…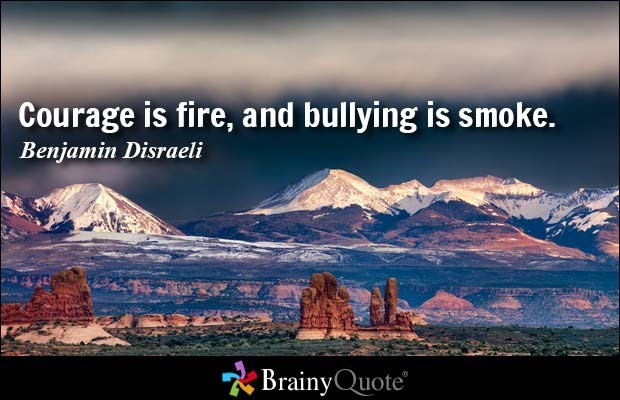 Have a great week.
Anna Nightingale
Vice Principal
---