This Week
Home
Hinchingbrooke celebrates 450 years in 2015!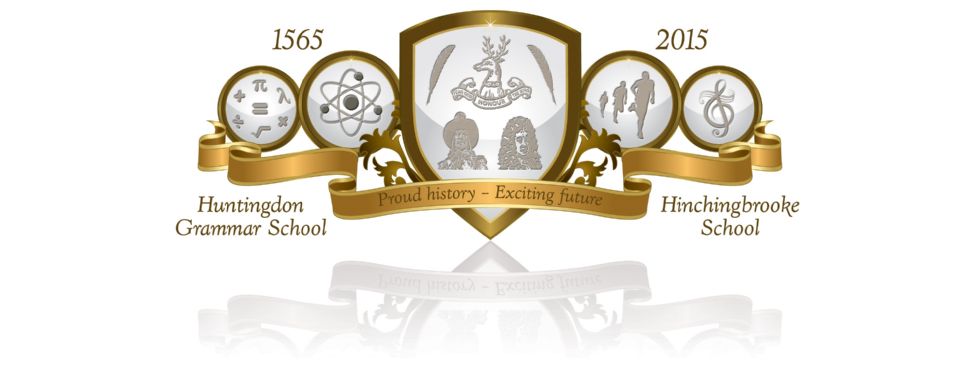 Did you attend Hinchingbrooke School? Sign up to our Alumni page, a safe secure site administered by 'Future First' allowing us to keep in touch. https://networks.futurefirst.org.uk/former-student/hinchingbrooke
Week beginning 19th January 2015 – Week B
It was fantastic to see so many parents at the Year 9 Parents' Evening last Thursday. There was a real buzz about the place, with lots of smiling faces; so reports from staff must have been positive in the main.
This week Years 12 and 13 are back in normal lessons (except those studying Art – they have 3 days of exams). Over the next fortnight their subject teachers will be returning their mock exams so they can see how well they did, and then analyse their work to see 'What Went Well' (WWW) and how it could be 'Even Better If' (EBI). They will also get the opportunity to improve some of their answers.
We have a collapsed day this Thursday (22nd January) on the theme of 'Well Being'. Hinchingbrooke students are now familiar with the collapsed timetable for the personal development days. They will, on this occasion, be looking at issues surrounding physical, mental, emotional and social well-being. All very much in line with the educational focus in the news currently. Different year groups will have a varying focus but general topics to be covered will include alcohol abuse, financial well-being, mental health and physical well-being. There will be a range of speakers in school for the day and it promises to provide some excellent and thought-provoking sessions.
In the morning Giles Duley will be delivering a speech to Sixth form students and then spending the afternoon with some of our prefects. Giles is a documentary photographer and photojournalist. He went out to Afghanistan to photograph humanitarian issues and the consequences of conflict. Whilst there, in 2011, he stepped on an IED and became a triple amputee.
On Friday the Year 12 Film Studies students will be off to Cambridge for a trip to the Arts Picture House to attend the 'Scripting the Plot' event. Year 11 will be having an assembly relating to 'A day in the life of a 6th Former' as they begin the process of deciding where they want to apply to and what to study in the next stage of their education. Students will be getting the 6th Form passports this week. This is the sheet they need to get signed by the Head of Department to be considered for that subject. Their Sixth Form Applications are due in on 6th February and interviews will take place after half term.
The School Production is fast approaching. This years' extravaganza is 'Our House', which is based on the Madness musical from the West End. The show will be on for a limited run – starting on Monday 9th and running 'til Thursday 12th February 2015. Tickets are a steal at £8.50 (concessions £5.50). Students can purchase their tickets from the cashier in school (located in the Year 11 Common Room) and parents/carers can call the hotline (01480 420502) to purchase their tickets. All proceeds go to the Hinchingbrooke Production Fund, and if the show is anything like past productions, it will be one not to miss!
The Theme for this week is very much linked to the well-being day, explaining what well-being means and asking students to consider what they are doing to safeguard their own well-being.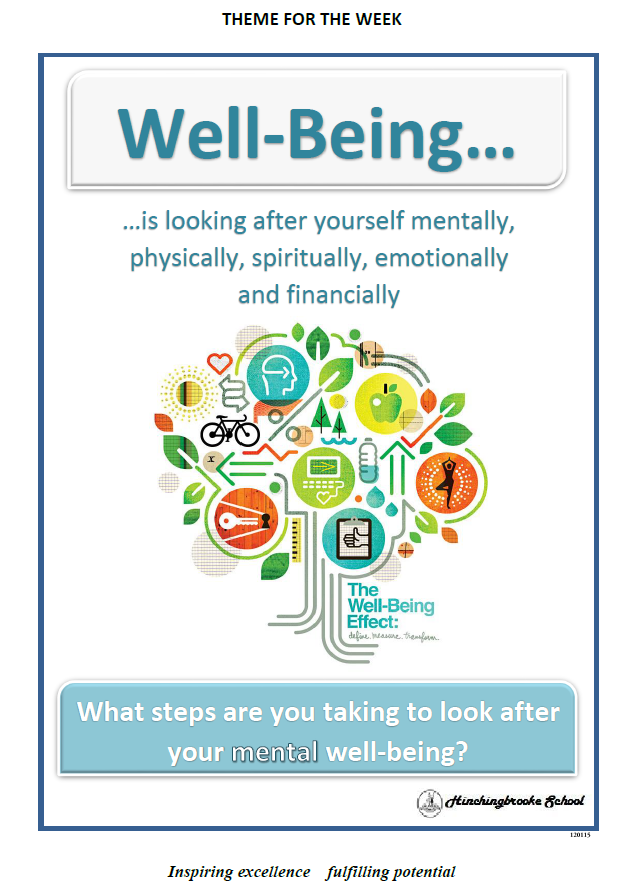 And so with our theme of the week in mind, here is the thought I would like to leave you with this week: "Live with intention. Walk to the edge. Listen hard. Practice wellness. Play with abandon. Laugh. Choose with no regret. Do what you love. Live as if this is all there is." —Mary Anne Roadacher-Hershey
Anna Nightingale
Vice Principal
---