This Week
Home
Week Beginning 24th November 2014 – Week B
The Year 11s are now into the serious business of sitting their written mock exam papers for the next two weeks. As a result the timetable for the day has changed to enable students to catch their buses at the end of each day:
Lessons 1-3 as normal
Lunch Break 12.15-12.55pm
Form Time 1 – 1.30pm
Lesson 4 – 1.30 – 2.30pm
Lesson 5 – 2.30 – 3.30pm
We wish them luck. There will be a mock results day after the Christmas break.
A great time was had by all at the 'Zoo Bus' and Science lectures. Mr Walker says it is a miracle he's still eating meat after listening to all Dr Leahy told them! The History evenings 'Our World…our war' was also well attended and proved to be a fascinating walk back in History.
All the promotion for next week's focus on Numeracy starts now. Mr Hancock is busy promoting the interhouse competition ('Can you make it?), the assemblies and the Non-Uniform Day (£1 on 5th December) where we invite students to come dressed as their favourite number (well at least to be wearing something referencing a number). Ask your son(s)/Daughter(s) what it's all about and which charity it will help us support.
We also have the Year 7 Parents' Evening to look forward to this Wednesday and we hope to see many of you there to discuss how your child is doing in their first term.
The Social Scientists are out on Monday, travelling to London, whilst the Swing Band is playing at the Memory Café at the home for the elderly. Let's hope the weather gets a little warmer for the artists who are off to the north Norfolk Coast this week. If it remains this cold they will more than need their gloves, hats and scarfs!
If you have a minute or two, click on the link below to see what our sports teams are up to. They produce fantastic weekly Sports reports which show in photos and through speech bubbles how we are getting on in various sports, matches and indeed new initiatives in the PE Department.
http://www.hinchingbrookeschool.net/page/default.asp?pid=563
The Theme of the Week is centred around celebrating achievement and asking students to wear their pins with pride. This fits nicely into a timely reminder about the up and coming Parents' Forum (Thursday 11th December) which will be centred on the changes in the awards systems in school in addition to asking for your thoughts on celebration evenings – so don't forget to put this in your diary and respond to the parent mail when it hits your inbox.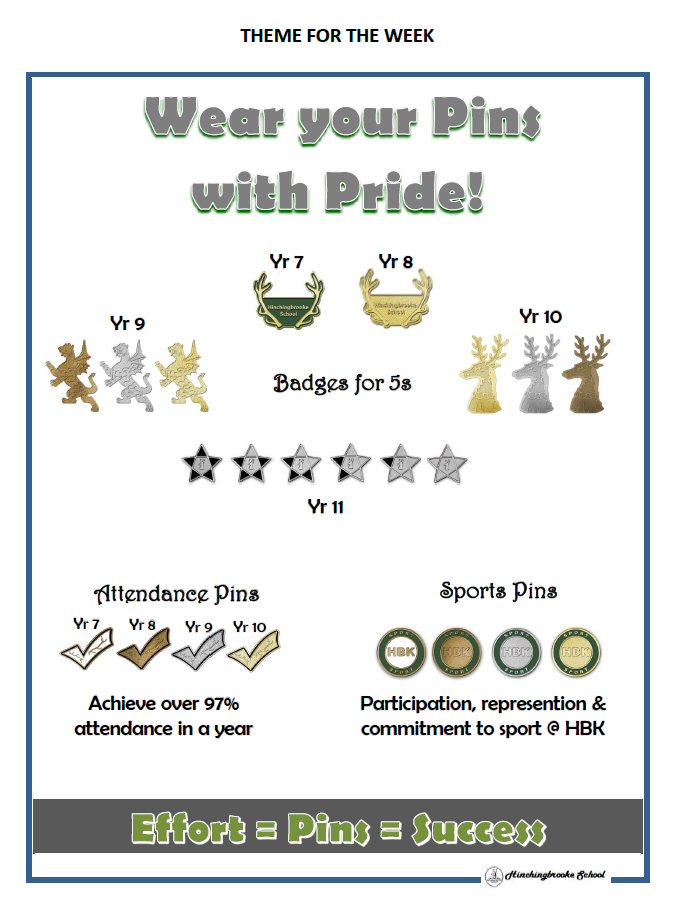 And so with the focus on exams and achievement for all, I'll remind you of a quote from one of my favourite films… 'Fear can hold you prisoner, but hope can set you free.' (Shawshank Redemption). You might not be able to do something…yet. If we don't hope, and don't strive to be any better, how can we hope to improve? If we fear failure how can we even make the first move.
Anna Nightingale
Vice Principal
---