This Week
Home
Welcome back to all our students. We hope that you all had a good half term break and that everyone is well rested and ready for a busy half term. The trips to Russia, Florence and Paris over the break all went well and were enjoyed by all.We have received some wonderful compliments and feedback about the four wonderful performances of Oliver that took place before half term. One parent said "We just wanted to say how amazing we thought the show was; the props, costumes, music and the performers we really enjoyed coming to see it. Friends and family come to see the show they could not believe how professional and talented the students are. We are so proud of our son and we truly feel blessed to have the performing arts in our school. Congratulations to the students and staff on their hard work and inspiring performances." We have attached some photographs below for you to enjoy.
Important Information - Wednesday 26th March
Although a number of staff will be taking strike action next Wednesday 26 March 2014, the School will remain open as normal.
Communications Team
Week Commencing 31st March 2014 – Week A
Year 11 GCSE Art students have been completing their exam pieces this week. We look forward to seeing some of their wonderful work displayed at the summer art exhibition.
On Wednesday evening many of last year's year 11 students attended the celebration evening and received their exam certificates and a range of prizes were awarded by Andrew Greenway, ex-student of Hinchingbrooke School.
Prizes included the following:-
Community Service - Paul Young
Leadership Prize - Lydia Salmon
Service to the school - Charlotte Hutton
Highest Achievement at Key Stage 4 - Ana Nash
Vesey Prize for Year 11 exam results - Patrick Matthews
Citizen Prize KS4 - Lloyd Gillham
OHA Music Prize KS4 - Anthony Owers
Congratulations to them all.
Why not come along to our Easter Music Concert on Wednesday 2nd April. The concert begins at 7pm and will take place in the Performing Arts Centre. Tickets will be available to buy on the door at a cost of £3. The concert will be a showcase for our many and varied school choirs, ensembles and soloists, and we hope that you will be able to join us in celebrating the talents of some of the finest young musicians at Hinchingbrooke School.
To finish off the term there will be a celebratory cinema experience for some year 7, 8 and 9 students. Students will be invited as a reward for their hard work, good behaviour, special contributions, and highest numbers of 5s for behaviour during lessons. Those students involved will be informed soon.
The 'Theme of the week' this week continues with "Respect" and looks at being responsible.
l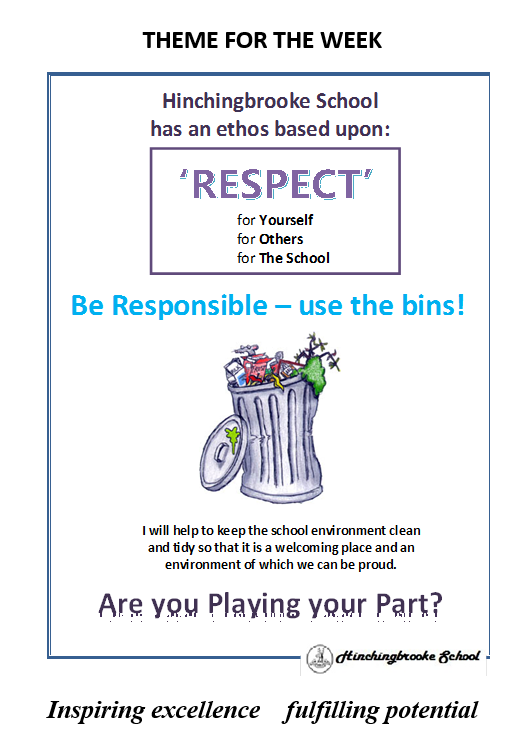 School closes on Friday 4th April and all students return to school on Wednesday 23rd April.
We wish you a wonderful Easter break and look forward to seeing students back and rested ready for the busy exam season.
The Communications Team
---