Darren Bent visits Hinchingbrooke
There is only one thing everyone will be talking about at Hinchingbrooke this week and that is Darren Bent's visit last Friday. Darren brought Aston Villa television with him and his press officer; what with our own cameraman and production manager for recording the return to school of one of our famous ex-pupils, the excitement was palpable. The Hunts Post photographer and reporter also came, so when Sky Sports and Match football magazine turned up, it was amazing. Darren had not come back to Hinchingbrooke since he launched the sport specialism for us in 2005, so we were delighted to wave his car into the drive at the House. Running late, the Aston Villa and England striker, was whisked off by Mr Turnbull (who taught Darren football!) At the astro pitches Darren did a few drills with Mr Pape's class, then we walked through the fitness suite and into our PE corridor where Darren posed for photographs in front of his own England Youth shirt, which we have displayed there.
After this we went to the PAC where 150 well-behaved and lucky students had been waiting for the arrival of the striker. Our sports leaders and ambassadors asked him questions and then I awarded Darren a gold pin for his national achievement. The footballer signed as many shirts, planners, trainers and scarves as he could before the bell went. There were more photos outside and then still more, with interviews, back in the warmth of Middle School. Mrs Ager made us a most welcome cup of tea and before we knew it, he was off. I pushed the great Hinchingbrooke House gates shut as he drove off and thought, "Well that was a different Friday afternoon to normal." I know all of those who met Darren were impressed by how proud he was of the school; he put a photograph of his gold pin on Facebook that evening and said how good it was to return to his old school. Mr Turnbull described him as an inspiration, as he was devoted to his sport and worked hard to gain the success he is now enjoying.
My thanks for all of their hard work to:
Members of Leadership Group who did crowd control
Mrs Ager, Mrs Forster and the sports partnership student team
The Site Team who made the school and facilities look so clean and smart
Gary the cameraman
The PE team and students
Miss Edwards and the HBK TV team
Miss Hart and the Hinchingbooke United students
The senior team of the sixth form
All of the students who were so well behaved throught the visit
Mrs Moore who liaised with Jane Saggers of e4education (Jane really made the whole thing come together)
However, the biggest round of applause should go to Mr Turnbull, who with only a couple of days' notice pulled off a fantastic range of activities and guided Darren, the media, the Head Boy and Girl and me through the whole afternoon. Thank you Mr Turnbull.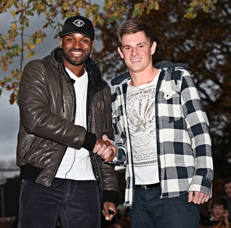 The photograph shows Darren wearing his Sport @ HBK cap; he is shaking hands with Max Everest, another of our sporting heroes at Hinchingbrooke.
---