Careermap
Careermag for Parents 2 is here!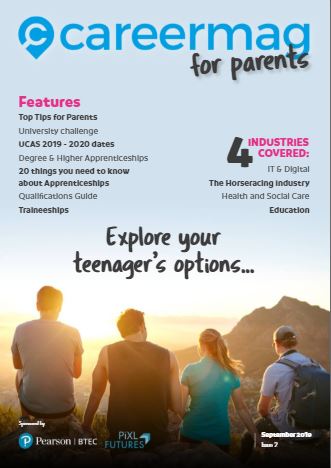 We've partnered with Careermap to produce Careermag for Parents. Finding high-quality career advice and guidance can often be stressful, not only for the pupils but also for parents, carers or guardians.
The latest issue of Careermag for Parents is available for students and parents/carers to sit down together to look at all the qualification and career routes available. We also have lots of articles about options for school-leavers and key dates to put on your calendar.
Click the link to view the magazine: http://bit.ly/2p4VWF4
Click the link to subscribe to future issues of Careermag - it's free: http://bit.ly/31oo3NK
About Careermap
Careermap is a useful resource which is used in many schools and colleges. They aim to help teachers to meet the Gatsby Benchmarks by providing high-quality advice and guidance to all young people looking to enhance their futures. They also offer thousands of live post-16 options.