CEIAG Delivery
Hinchingbrooke School places great importance upon giving students current and accurate careers education, information and guidance. The aim of our careers programme is to develop the skills, attitudes and abilities of our students to enable them to make effective decisions about their future education, training and employment. We see this as an essential role of all teachers whether in their role as tutors or subject teachers. Additionally we have a Careers Team for targeted support.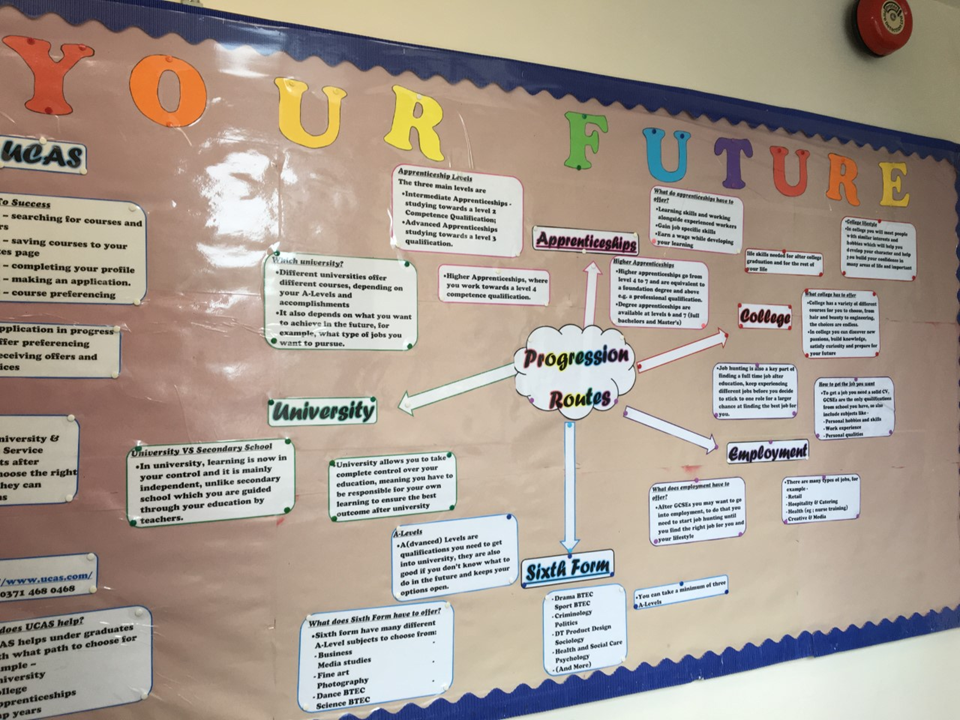 The CEIAG offered to students is designed to best suit the individual needs, capabilities and aspirations of each student. Careers education, advice and guidance is embedded in the curriculum via subjects, form time and special events. The special events are collapsed timetable sessions at pivotal points in the students' educational journey. These sessions include GCSE Option support, Work Experience preparation, careers action planning and post 16 options. Students are encouraged to explore career opportunities in the local area considering skills, qualifications, qualities and salary expectations. We seek to involve local partners wherever possible to enhance this experience for all. Students are helped to explore a wide range of career possibilities through our curriculum and as part of enrichment opportunities offered to all students. Such areas are included in our Personal Development Day programmes. Additional support and guidance is also available through career appointments, lunchtime drop-in sessions in the library or independently through the National Careers Service. Students are encouraged to speak with a careers advisor or their form tutor at any time.

In Year 7 and 8 students will be encouraged to explore career options by looking at the local labour market. They will begin to match skills/qualifications/qualities with career options. They will reinforce this and look to use their GCSE Option choices as a way of deepening their understanding of the local labour market while developing their knowledge of career pathways.

All Year 10 students are required to participate in a Work Experience placement in the local area. The students are prepared thoroughly for work experience and their progress is monitored by form tutors who visit the work placements. The response from parents/carers, students and employers over the years has been very positive with work experience becoming a very valuable addition to the curriculum at Hinchingbrooke.

In Year 11 the CEIAG team work closely with the Year 11 tutorial staff to ensure every student is receiving appropriate individual and independent support. Great care is taken to ensure every student has the information required to make an informed decision and opportunities are created for students to discuss their options with the appropriate staff member or external provider.

Post 16 CEIAG provision is delivered as part of the tutorial programme and in special events allowing students to meet and interact with local employers. The programme is designed to meet the needs of students intending to carry on into further education, training or seeking to enter the workplace. All our students have access to a planned programme of Careers Education which provides opportunities to develop and apply the knowledge, understanding and skills necessary to make realistic career decisions.