Old Huntingdonians' Association
The Old Huntingdonians' Association exists to provide former pupils of Huntingdon Grammar School (1565 - 1970) and Hinchingbrooke School (since 1970) with the opportunity to keep in touch with each other and with the school today.
Founded in 1933, the OHA is a relatively informal association, operating through a mailing list and now through this web page. It has no membership fee - all former pupils of the two schools can ask to be added to the mailing list.
---
Latest News:
In 2015 we celebrate the 450th anniversary of the foundation of Huntingdon Grammar School, now Hinchingbrooke School. The Old Huntingdonians' Association has commissioned a new history of the school, linking it closely with the development of Huntingdon and the changes in society over the last 450 years. The book has been written by local historians and archivists and is now with the designers and printers with a view to publication in October 2014. A photo of the book cover is below.
In order to minimise the financial risk of producing a full colour 200 page book with hundreds of illustrations, the OHA has been seeking 'Patrons'. A Patron makes a donation of £50 and his/her name is listed in the book. He/she gets a free copy of the Book (retail price £15) and an invitation to the launch event, probably Sunday October 19th in Hinchingbrooke House.
So far we have over 90 Patrons, drawn from former pupils (including one who left HGS in 1933), former teachers and support staff, the last 5 headteachers and, in memoriam, one of the earlier headteachers.
It would be tremendous if we could get over 100 but if you wish to become a Patron, time is running out. We need to hear from you before August 31st. Please download the donation form (bottom of this page), complete it and send it with your cheque for £50, payable to 'The Foundation of Hinchingbrooke School', to:
Peter Downes, 42, Huntingdon Road, Brampton, Huntingdon, PE28 4PA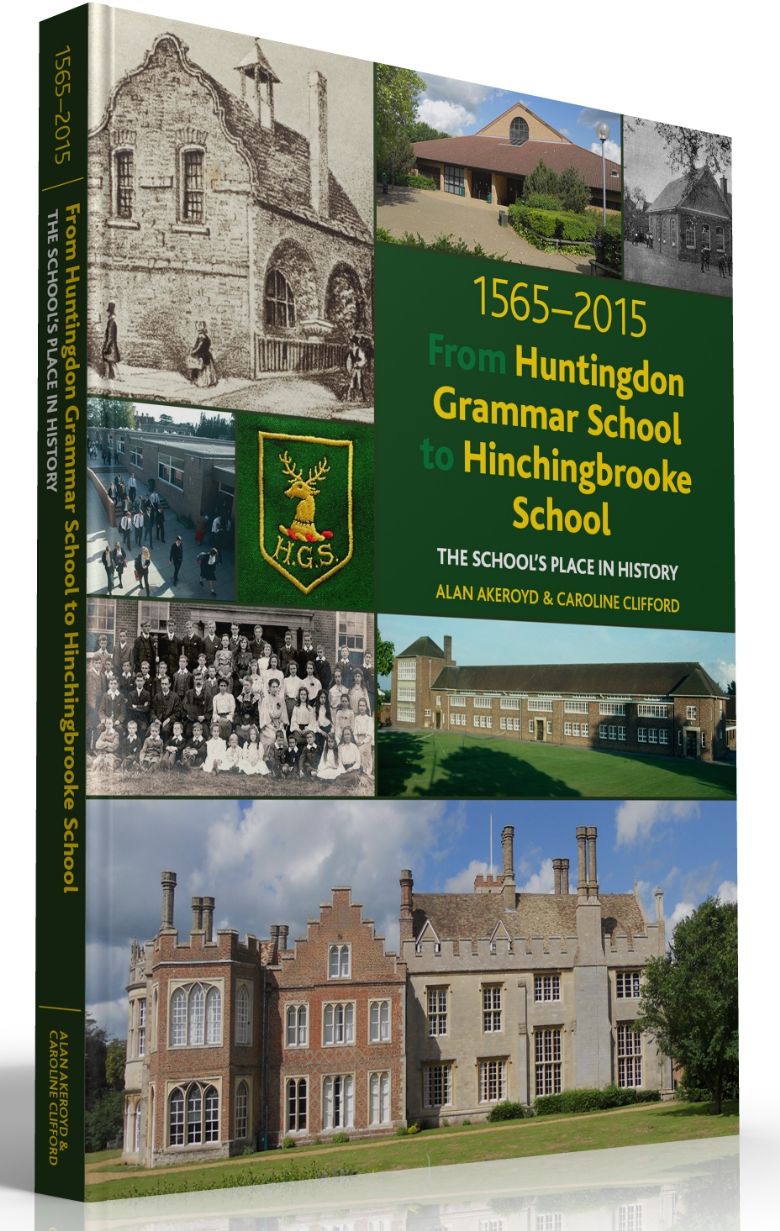 ---
The OHA is run by a small committee, which currently comprises:
Chairman - Hilary Angell-While
Vice-Chairman – Alan Butler
Secretary - Ann Monk
Treasurer - John Hinsby
Membership List Secretary - Richard Cook
Web-page coordinator - Gary Buckenham
Ann Davies
John Gill (Member Emeritus)
OHA President - Peter Downes, former Head of Hinchingbrooke School (1982-96)
OHA Vice-President - Keith Nancekievill, recently retired Head of Hinchingbrooke School (2003-12)
---