Exams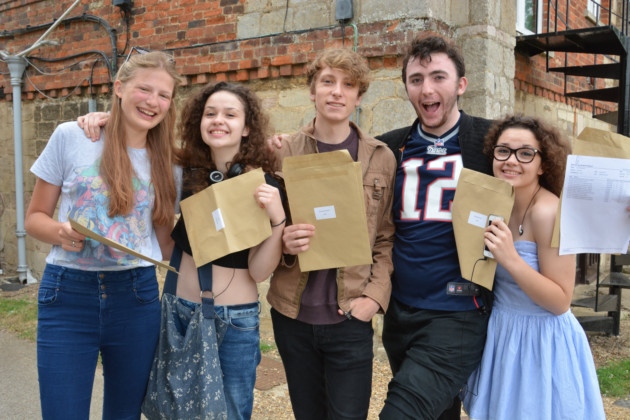 We are thrilled for all those of our students whose results have reflected the hard work they have put in, and have so deservedly enabled them to progress to their choice of university or their planned next steps in their career.
We are really pleased with our results, which have improved at A*-B (46%), A* -C (76%) and A*-E (99%), and our average points score per student is our highest for five years.
The raw figures represent multiple heroic efforts by students, several of whom have faced debilitating illness, whilst many others have overcome severe personal challenges, to achieve their results today. We want to celebrate the achievement of some of our top students, including Rob Fielding who got four A*s, Alice Pettit (A,*A*, A), Will Taylor (A*, A, A, A), and Katie Buttriss, Jack Burgess, Lucy Inskip, Emilia Brown, Sam Heaton, Katie Smith and Ed Wilson, all of whom got A*, A, A. Two of our students with Oxbridge places achieved what they needed, and many others are now set to enter careers in Medicine and Law.
We were especially pleased with our Science results. In Biology, 36% of students achieved A*, 53% A*-A, and 93% A*-B (an improvement of 35% on last year). In Chemistry, 16% of students got A*, 30% A*-A and 62% A*-B (an improvement of 13% on last year). In Physics, 7% got A*, 27% got A*-A and 60% A*-B (a 10% improvement from last year). We should also mention our amazing Art department, where all the students who took Art A Level got A*-B.
We send our congratulations to our Year 13s for what they have achieved as a result of their commitment to their studies, and we send our best wishes to each and every one of them.
Results Summer 2016
A2 Headline Figures
Assessment

A*-B

A*-C

A*-E

APS

(per student)

APE

(per entry)

A2 results 2016

46

76

99

99.9

33.8

A2 2015
45
72
98
98.6
33.3