Bösendorfer Piano Concerts
The Hinchingbrooke Bösendorfer Piano Concerts 2015– 2016
The Hinchingbrooke Bösendorfer Piano Concerts 2015 - 16 Entering the ninth Bösendorfer concert series, we again welcome artists of international repute in performances featuring the concert grand piano donated by 'Old Huntingdonians' in memory of former school music director Kenneth Brown.
The final Bösendorfer concert in the year 2015 will be a special Gala evening in celebration of the founding of Huntingdon Grammar School / Hinchingbrooke School 450 years ago in 1565.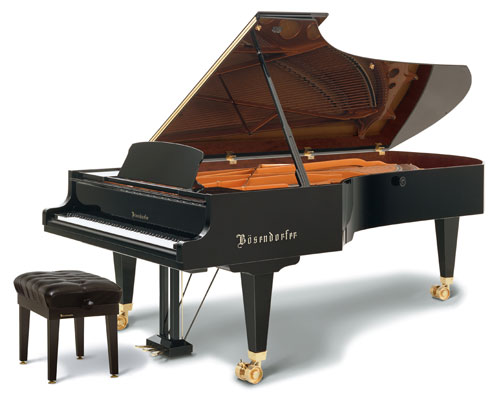 Friday October 23rd 2015: Katya Apekisheva, piano.
Trained at the fabled Knessin music School in Moscow and first prize winner in the Leeds international competition, Katya has become one of Europe's foremost pianists. She is greatly in demand internationally for solo and ensemble work and has appeared as concerto player with some of the world's leading orchestras.
Her programme will include music by Grieg, Schubert and Chopin.
Friday November 27th 2015: GALA CONCERT with Miranda Dale, violin; Caroline Dale, cello; Nicholas Daniel, oboe; Paul Turner, piano.
For this, our final concert for the year 2015, we are fortunate to have secured the services of such a stellar array of international performers. As some of our most popular artists from previous years, they are all widely known and admired on the world stage and will present a varied programme including music by Fauré, Poulenc, Bridge and much more.
FREE WINE / JUICE will be offered during the interval.
Friday January 22nd 2016: Aurora Trio (Emma Halnan, flute; Joe Bronstein, viola; Heather Wrighton, harp) with Daniel King Smith, piano.
The Aurora Trio holds the prestigious Chamber Music Fellowship at the Royal Academy of Music. These three outstanding young musicians, all prize winners as individual performers, will collaborate with acclaimed ensemble pianist, Daniel King Smith to delight listeners with a very varied programme to include: Debussy-sonata for flute, viola and harp, Borne-Carmen Fantasy, Copland-flute/piano duo.
Friday February 26th 2016: Frédéric Aguessy, piano.
Frédéric played for us in February 2015 at very short notice and enchanted the audience with his special style of music making. He is a former winner of the Marguerite Long-Jacques Thibaud Grand Prix du Concours, one of the world's most prestigious competitions and comes to us now with a wealth of performing experience world wide.
His programme will include: 'The Wanderer Fantasy'-Schubert, Sonata no24-Beethoven and music by Chopin and Debussy.
Friday March 18th 2016: Cristian Grajner De Sa, violin; Marina Nadiradze, piano.
Marina has deservedly established herself here as one of our favourite pianists. Today she brings with her Cristian Grajner de Sa, an outstandingly brilliant young British violinist, already a multi prize winner, with a very promising future.
Their programme will include: Mozart-sonata in B♭, Brahms-Sonata in G major, Wieniawski-Polonaise.
Hinchingbrooke Performing Arts Centre
Huntingdon at 7.30 pm
Box Office 01480 375678
Tickets: adults: £12 (all 5 concerts: £50)
groups of 20 or more: £9 each
pupils and students under 21: £5
---