Bösendorfer Piano Concerts
The Hinchingbrooke Bösendorfer Piano Concerts 2014– 2015
The eighth season has just finished, the nineth season will be announced soon....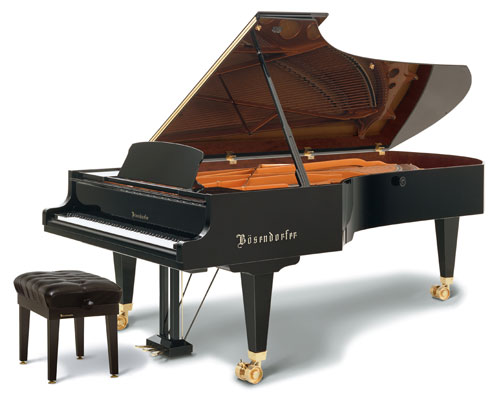 Friday March 27th 2015: "450 Years - A Musical Journey " with Crispian Steele-Perkins, period trumpets; Martin Ennis, harpsichord; Vivien Choi, piano; Zoë Bonner, soprano; Inga Davis-Rutter, piano.
To mark the 450th Anniversary of Huntingdon Grammar School/Hinchingbrooke School, this themed concert is dedicated to the evolution of music from 1565 to the present day, using some of the ancestors of our modern instruments as well as those more familiar to us. All five artists are leaders in their own particular field and will include music by Byrd, Handel, Mozart, Schubert, Chopin, Parry, Gershwin and others.
Friday February 27th 2015: Frédéric Aguessy, piano. (change to original performer)
Frédéric is one of France's leading pianists. As a winner of a number of international awards, he has developed a wide-ranging career travelling throughout Europe and world-wide. His programme will include music by Chopin, Liszt, Debussy and Chausson.
Friday January 30th 2015: The Fitzwilliam Piano Quartet : Lucy Russell, violin; Alan George, viola ; Heather Tauch, cello ; Anna Tilbrook, piano.
Originally formed at Cambridge University, the Fitzwilliam string quartet has earned an enviable reputation in the international concert world. Today, three of their number are joined by the outstandingly talented and successful ensemble pianist Anna Tilbrook. Their programme will include piano quartets by Mozart and Schumann.
Friday November 28th 2014: Miranda Dale, violin; Paul Turner, piano.
Miranda has developed a highly successful international career as soloist and ensemble player and is also guest principal with the Philharmonia Orchestra, the City of Birmingham Symphony Orchestra and The English Chamber Orchestra. Paul is well known in the UK and abroad as an exceptionally skilled and sensitive ensemble pianist. This programme includes music by Kreisler, Fauré (sonata in A), Franck (sonata) and Massenet.
Friday October 31st 2014: Masayuki Tayama, piano.
Returning by popular request, we are fortunate to have this opportunity to hear Masayuki once again. His richly coloured, virtuosic and communicative playing continues to delight audiences around the world. This will be a programme to include music by George Gershwin (Rhapsody in Blue) and Chopin (12 études op.10 )
---